SUNY Delhi Grad to Compete on Gordon Ramsey's "Hell's Kitchen"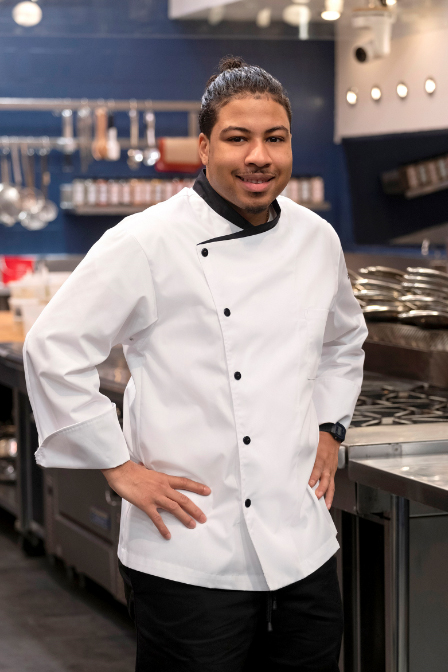 SUNY Delhi 2016 hospitality management graduate Sakari Smithwick will be competing on Season 21 of "Hell's Kitchen," a reality cooking competition show hosted by celebrity chef Gordon Ramsey. The season, entitled "Battle of the Ages," pits up-and-coming young chefs against older, more experienced chefs for the grand prize of becoming head chef at one of Ramsey's restaurants. The show premiers September 29 on Fox.

Smithwick says viewers can expect "a hell of a time."

"The competition was an incredible experience," he says. "I've always been a big fan of Gordon Ramsey, and when the show reached out, I was excited to participate. The competition features some of the best chefs in the country. It was challenging and life-changing, and I'll never forget it."

"Hell's Kitchen" is Sakari Smithwick's second time competing in a reality cooking show. In 2019, he competed and placed second in Food Network's "Chopped."

Since his graduation from SUNY Delhi's hospitality management program in 2016, Sakari Smithwick, now 27, has had an impressive career working in some of the best restaurants in the world. These include Michelin-star restaurants Marea, Eleven Madison Park, and Ukiyo, where he earned his first Michelin star at the age of 24 alongside Chef Marco Prins. Smithwick is now working to bring his own multimedia concept, Noble Promise Studios, to life, working with young creators to showcase their talent in food, music, art, and fashion.

Smithwick, who grew up in Amityville, NY, says his education at SUNY Delhi gave him the tools to be successful in the culinary industry.

"I'm still in touch with my former instructors at SUNY Delhi. They give me advice and support me every step of the way. Having access to those fine dining experiences through the culinary program opened my eyes and inspired me to seek work in Michelin-star restaurants."

Dr. Brower, Dean of the School of Business and Hospitality Management at SUNY Delhi, remembers Sakari as a driven student determined to succeed.

"We are extremely proud of Sakari's accomplishments," said Dr. Brower. "He is an impressive young chef who is taking the culinary world by storm while striving to give back to his community and enhance the lives of others. The faculty and I are confident that he is destined for continued success in the years ahead."

Going forward, Smithwick hopes to inspire others with the message that, no matter where you come from, you can accomplish anything.

"I want to change the world with food."

About SUNY Delhi's Culinary Arts Programs

SUNY Delhi has long been recognized as one of the nation's leaders in culinary training. In the last decade alone, Delhi students have won more than 500 individual and team medals from cooking competitions, including multiple American Culinary Federation (ACF) regional, state, and national championships, as well as international titles.