Meet Our Transfer Students
Why transfer to SUNY Delhi?
Sierra Keesler
Major: Recreation & Sports Facilities Management (Bachelor of Business Administration)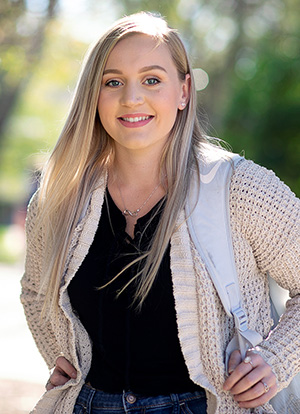 Why SUNY Delhi?
During my first year of college, I wasn't really into school. I didn't feel motivated. I felt like I had no support at my college and I knew it wasn't the right fit for me, so I decided to come home to Hancock, NY. SUNY Delhi seemed like it might be a better fit, and then I talked with the softball coach and she helped me make my decision to transfer. I am a center fielder on the team now, and was named a USCAA All-American last year!
What was transferring like for you?
The process was so easy. The admissions office helped me understand how my credits would transfer in. That made me feel better when I was already nervous about starting something new. I was worried about fitting in, but I had no problem making friends and I feel like I have found second and third families in the softball team and people in my major.
What do you like best about SUNY Delhi?
My program is so motivating! All of the faculty are so supportive. They push you in a positive way and make us feel like we are part of a big family. I also like how I am able to manage my classes, playing a sport, having a part-time job, and still having a life! I work in the fitness center on campus and I love that it is relevant to my major. I am planning to take the test to become a personal trainer and would love to open my own gym or rec facility someday. I feel like I have the best advising and mentors. I wasn't expecting to stay for my bachelor's degree, but I wound up loving the school so much I didn't want to leave!
Any advice for students considering transferring to SUNY Delhi?
Definitely do it! Everyone here is so supportive and is willing to work with you to find the right path for your future. I actually work in the transfer admissions office now and help with the paperwork on transfer articulation and credit agreements that SUNY Delhi makes with other colleges. It is so interesting to see how things work behind the scenes and it helps me see how dedicated everyone is to making sure the transfer process goes as smoothly as possible. SUNY Delhi changed my perspective on college and life. The entire campus community is helpful and you aren't just a number here. Everyone wants to see you succeed and do well in life.
Krzysztof Nazar
Major: Hotel & Restaurant Management (Bachelor of Business Administration) online program.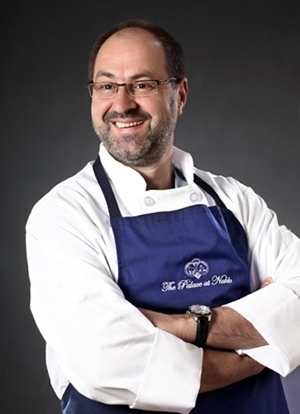 What is your background?
My full name is Krzysztof, but everybody, including my wife, calls me Kris. It's a bit easier on the tongue. I am originally from Poland where my parents owned a hotel and restaurant on the Baltic Sea. Because of the political situation, I left Poland in 1984 and spent two years in a refugee center in Germany, before arriving in Detroit in 1986. I enrolled full-time at SUNY Rockland in their Hospitality and Culinary Arts program and pursued my associate's degree. At the same time, my love of cooking and my early experience in the family kitchen landed me a full-time position with the brilliant restaurateur, Peter X. Kelly.
Why SUNY Delhi?
I wanted to pursue a business management degree so you can imagine how thrilled I was to see that SUNY Delhi offered an online program for associate's degree graduates.
What do you like best about SUNY Delhi?
The online program offers the flexibility and 24-hr access essential for students who work full time. The chance to earn my bachelor's degree is enabling me to achieve my goals.
Any advice for students considering transferring to SUNY Delhi?
Go for it! The entire admission process, advisement, and available help make the transition smooth and painless. If you have the desire and a little bit of self-discipline you will succeed!