Meet Our Transfer Students
SUNY Delhi is a great choice for students looking to continue or transition their educational path. With over 50 degree options ranging from on-campus undergraduate programs to 100% online undergraduate completion programs and graduate degrees, our programs are designed to meet your needs. Our team of dedicated transfer counselors are excited to work with you throughout the application and enrollment process.
See yourself with SUNY Delhi! Below, meet a few of our recent transfer students and learn about why they chose SUNY Delhi.
---
Rebecca Heuler '23
Physical Education Studies (AS) | Transferred from John Jay College of Criminal Justice.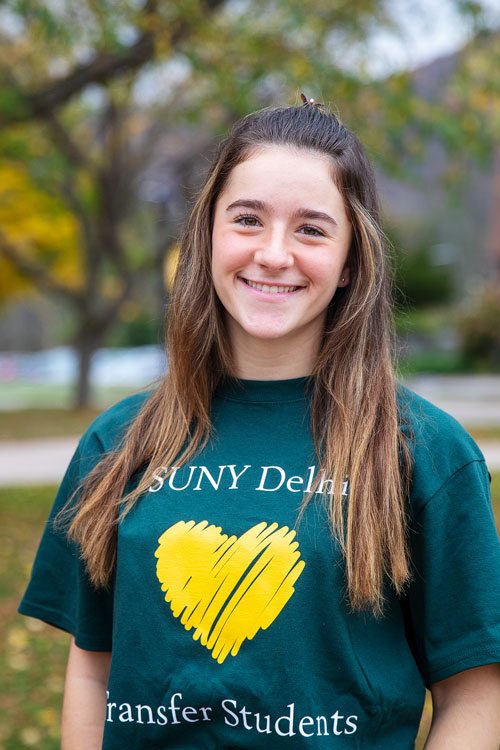 Why did you decide to transfer to SUNY Delhi? I studied forensic science in my previous college but wasn't really enjoying the program. Athletics have always been a big part of my life, so I did a lot of research on different physical education programs. The program at SUNY Delhi is really good so it was a great fit. It's been 100% the right choice for me. I'm so happy here.
Why did you choose SUNY Delhi? The location of SUNY Delhi is perfect for me – it's not too far from home or other cities, so I can go anywhere whenever I want. The school is a great community. All aspects of the school are brought together in some way or another, so almost everyone knows each other, making things a lot more fun. The Physical Studies program, as well as athletics, also contributed to my decision because they stand out despite being one of the smaller SUNYs. I think that Delhi does a great job when it comes to offering a great experience. No matter who you ask, they will tell you their major is really good!
Describe your experience in the program. So far I love it! The small classes allow me to learn a lot while also building good relationships with my professors. The classes are a lot of fun – the perfect mix of academic and activity-based classes. Within one day, I have some classes where I sit and learn for an hour and others that allow me to be active and learn. My favorite class is Team Sports. We are able to participate in fun games and drills while also learning how to truly be a P.E. coach. This makes the lessons more memorable because we are performing them and seeing them done firsthand. It allows us to be better prepared for a future in the field.
How will this degree help you reach your career goals? When I graduate from SUNY Delhi, I will be able to take my next step at either SUNY Cortland or SUNY Brockport to receive my bachelor's degree with no problem, thanks to their dual agreement program. Ultimately, this will put me in a good place to get a job straight out of college.
What advice would you give to prospective students on how to make the most of the SUNY Delhi experience? Get involved – whether it's a club, a sports team, or an on-campus job, becoming part of a group will allow you to make more friends and more memories.
---
John Amoroso '20
Criminal Justice (BS) online | Transferred from Columbia-Greene Community College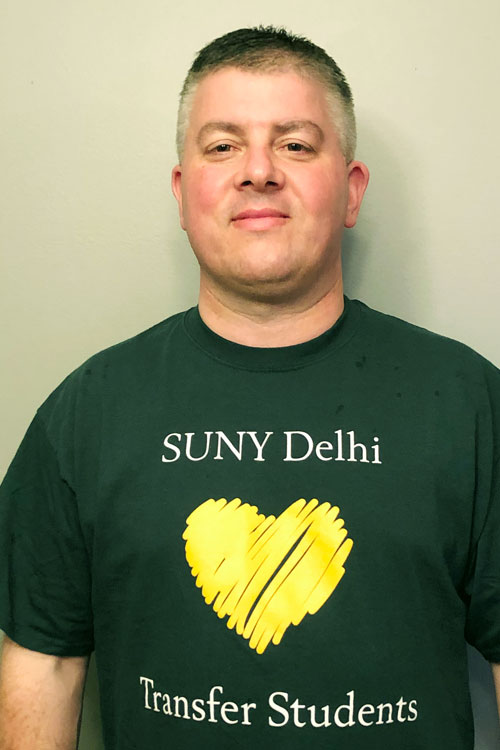 Why did you decide to study online? I work full time, so taking traditional classes wasn't an option. The online program gave me the flexibility to do my coursework at night, on my days off, and on weekends.
Why did you choose SUNY Delhi? I chose SUNY Delhi because the online criminal justice program offers a bachelor's degree and a variety of criminal justice courses. I felt the curriculum was strong and the class offering was consistent with modern-day criminal justice opportunities and challenges.
Describe your experience in the program. I had an excellent experience. The SUNY Delhi staff and professors were accessible, knowledgeable, and always willing to help.
How do you feel about your career prospects after completing a bachelor's degree online? My career prospects were very limited before. Without a bachelor's degree, I couldn't compete for several positions I was interested in – I couldn't even interview for them. That was enough motivation to go back to college, earn a bachelor's degree, and put myself in a competitive position in the future. I am exploring future possibilities utilizing my education, skills, and experience in ways that would not be possible without a bachelor's degree.
What advice would you give to prospective students on how to make the most of the online experience at SUNY Delhi? If you have any hesitation, speak with an academic advisor and the professors. Visit the campus. Reach out to alumni who have graduated from the online program. I was able to accomplish my degree at 48 years old working full time. A little dedication, commitment, and organization go a long way and will lead to success at SUNY Delhi. It's a great college with excellent professors, and the advisors are incredibly helpful and fully committed to student success!
---
Mylinh Bui '21
Hotel and Restaurant Management (BBA) online | Transferred from Kingsborough Community College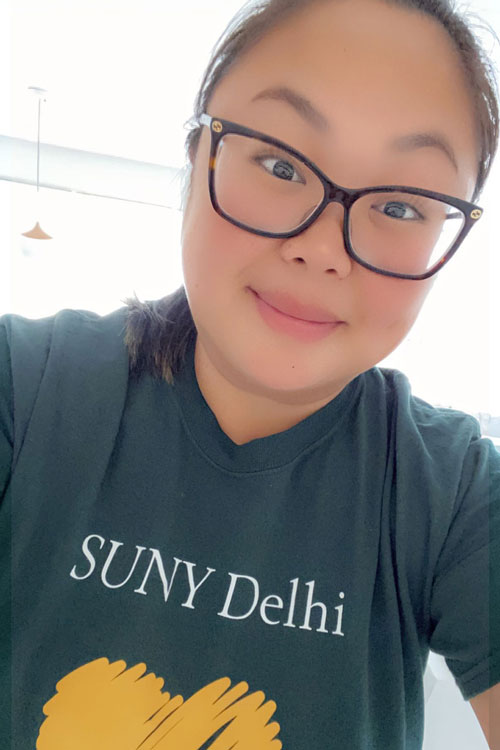 Why did you decide to study online? I was never the best student, and going to class gave me anxiety. Studying online from home gave me a sense of comfort.

Why did you choose SUNY Delhi? I chose SUNY Delhi because of the selection of hospitality majors they offer.

Describe your experience in the program! It was great. The professors were helpful, engaging, and made the experience extremely easy. Everyone just wanted to help you achieve your goals.
How do you feel about your career prospects after completing a bachelor's degree online? I feel more confident when applying for jobs and going on interviews. Being able to say I took specific classes gives me an advantage over other applicants.
What advice would you give to prospective students on how to make the most of the online experience at SUNY Delhi? My advice would be to network and make friends as much as possible. Even though you are online, you can connect with many different people.
---
Read more transfer student stories below!

Shelby Nolan : Veterinary Technology (Bachelor of Technology)

Why SUNY Delhi?
My freshman year of college, I attended a college in Massachusetts where I pursued a veterinary technology bachelor's degree. Unfortunately, the school had to close due to financial issues, but I still knew that I wanted to continue my education in veterinary medicine. I was fortunate enough to find SUNY Delhi and was so impressed that it was the first Veterinary Science Technology program in the United States. I also liked the emphasis on hands-on experience working with live animals in state-of-the-art labs. I have also been given the amazing opportunity to continue my career as a collegiate athlete in softball and volleyball while finishing my degree here at Delhi!

Were you nervous to transfer?
Change is never easy, especially when you pictured your college career at a completely different school and state. However, despite the challenges that come with change, my transfer process was made easier with the help of everyone at Delhi. Admissions helped with a smooth transition in transferring my credits and worked with me to develop my course schedule in order for me to graduate on time! I was welcomed with open arms by all of my teachers in the veterinary program. Being a part of two teams has also helped make SUNY Delhi home for the next three years!

What do you like best about SUNY Delhi?
I have gained so much hands-on experience from the veterinary technology program! From performing physical examinations on animals to assisting in surgeries and anesthesia, I would have never imagined I would be the veterinary technician I am today. I have gained the knowledge, skills and confidence in order to pursue my career out in the veterinary field, all thanks to my professors who instill passion and excitement in all their students. I have gained friends for a lifetime and memories that I will never forget.

Any advice for students considering transferring to SUNY Delhi?
I would definitely encourage anyone who is considering transferring to Delhi to do it! Despite how intimidating new places are, everyone here at Delhi works with you in order to make the process as easy as possible. The campus is a small-knit community, and everyone here does everything they can to see you succeed!

Melonie Papuli : Nursing Dual-Degree (Associate of Applied Science to Bachelor of Science )

Why SUNY Delhi?
I picked SUNY Delhi because I heard great things about their nursing program and professors. The dual-degree program in the nursing program enables me to take the NCLEX exam and then complete my bachelor's degree online my fourth year! I also got in contact with the softball coach and she helped me make my decision to transfer easier. The chance to play NCAA Division III softball was an unbelievable perk!

What was the transfer process like?
I didn't want to transfer because I didn't want to go through the whole process of finding a new school, applying, making a new group of friends. SUNY Delhi made the transferring process so easy and everyone I talked to during the process was very helpful.

How has your experience been at SUNY Delhi so far?
I love the campus at Delhi, everyone is so friendly and the faculty in Nursing and in my other classes are very helpful and seem like they want the best for every student. I love that students get to build such strong relationships with their professors.

Any advice for students considering transferring to Delhi?
My advice would be to do it! The admissions office reviewed all of my previous credits and took them all. Every experience I had with the campus and staff made my choice to transfer very easy.

Krzysztof Nazar : Hotel & Restaurant Management (Bachelor of Business Administration) online program

What is your background?
My full name is Krzysztof, but everybody, including my wife, calls me Kris. It's a bit easier on the tongue. I am originally from Poland where my parents owned a hotel and restaurant on the Baltic Sea. Because of the political situation, I left Poland in 1984 and spent two years in a refugee center in Germany, before arriving in Detroit in 1986. I enrolled full time at SUNY Rockland in their Hospitality and Culinary Arts program and pursued my associate degree. At the same time, my love of cooking and my early experience in the family kitchen landed me a full-time position with the brilliant restaurateur, Peter X. Kelly.

Why SUNY Delhi?
I wanted to pursue a business management degree so you can imagine how thrilled I was to see that SUNY Delhi offered an online program for associate degree graduates.

What do you like best about SUNY Delhi?
The online program offers the flexibility and 24-hour access essential for students who work full time. The chance to earn my bachelor's degree is enabling me to achieve my goals.

Any advice for students considering transferring to SUNY Delhi?
Go for it! The entire admission process, advisement, and available help make the transition smooth and painless. If you have the desire and a little bit of self-discipline you will succeed!

Sierra Keesler : Recreation & Sports Facilities Management (Bachelor of Business Administration)

Why SUNY Delhi?
During my first year of college, I wasn't really into school. I didn't feel motivated. I felt like I had no support at my college and I knew it wasn't the right fit for me, so I decided to come home to Hancock, NY. SUNY Delhi seemed like it might be a better fit, and then I talked with the softball coach and she helped me make my decision to transfer. I am a center fielder on the team now, and was named a USCAA All-American last year!

What was transferring like for you?
The process was so easy. The admissions office helped me understand how my credits would transfer in. That made me feel better when I was already nervous about starting something new. I was worried about fitting in, but I had no problem making friends and I feel like I have found second and third families in the softball team and people in my major.

What do you like best about SUNY Delhi?
My program is so motivating! All of the faculty are so supportive. They push you in a positive way and make us feel like we are part of a big family. I also like how I am able to manage my classes, playing a sport, having a part-time job, and still having a life! I work in the fitness center on campus and I love that it is relevant to my major. I am planning to take the test to become a personal trainer and would love to open my own gym or rec facility someday. I feel like I have the best advising and mentors. I wasn't expecting to stay for my bachelor's degree, but I wound up loving the school so much I didn't want to leave!

Any advice for students considering transferring to SUNY Delhi?
Definitely do it! Everyone here is so supportive and is willing to work with you to find the right path for your future. I actually work in the transfer admissions office now and help with the paperwork on transfer articulation and credit agreements that SUNY Delhi makes with other colleges. It is so interesting to see how things work behind the scenes and it helps me see how dedicated everyone is to making sure the transfer process goes as smoothly as possible. SUNY Delhi changed my perspective on college and life. The entire campus community is helpful and you aren't just a number here. Everyone wants to see you succeed and do well in life.