What is BroncoCHECK?
A BroncoCHECK is an intentional decision that an individual or group makes to intervene in a situation that has the potential to be risky, dangerous, unhealthy, or an emergency.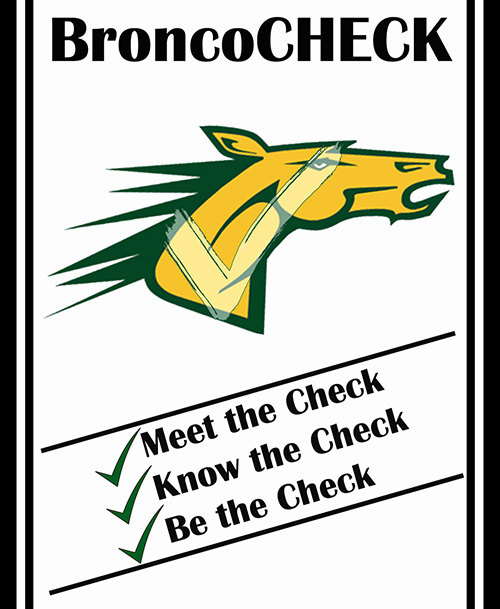 The BroncoCHECK program is designed to:
Increase awareness and understanding of problematic behaviors and unjust behaviors;
Instill a sense of responsibility for helping to solve problems and support others;
Develop skills related to intervening in risky, dangerous, or unjust situations;
Empower people to act individually and collectively.
Campus & Community Resources
Health & Counseling 607-746-4690
University Police 607-746-4700
Delhi Police Emergency 911
Non Emergency 607-746-2249
Student Life Office 607-746-4440
Student Rights & Responsibilities 607-746-4443
Residence Life 607-746-4690
Hazing Hotline 607-746-4294
O'Connor Hospital 607-746-0300
Safe Against Violence 607-746-1720
Resident Assistant Offices
Catskill 607-746-4852
Dubois 607-746-4285
Gerry 607-746-4295
Murphy 607-746-4288
O'Connor 607-746-4291
Riverview Townhouses 607-832-4100
Russell 607-746-4290