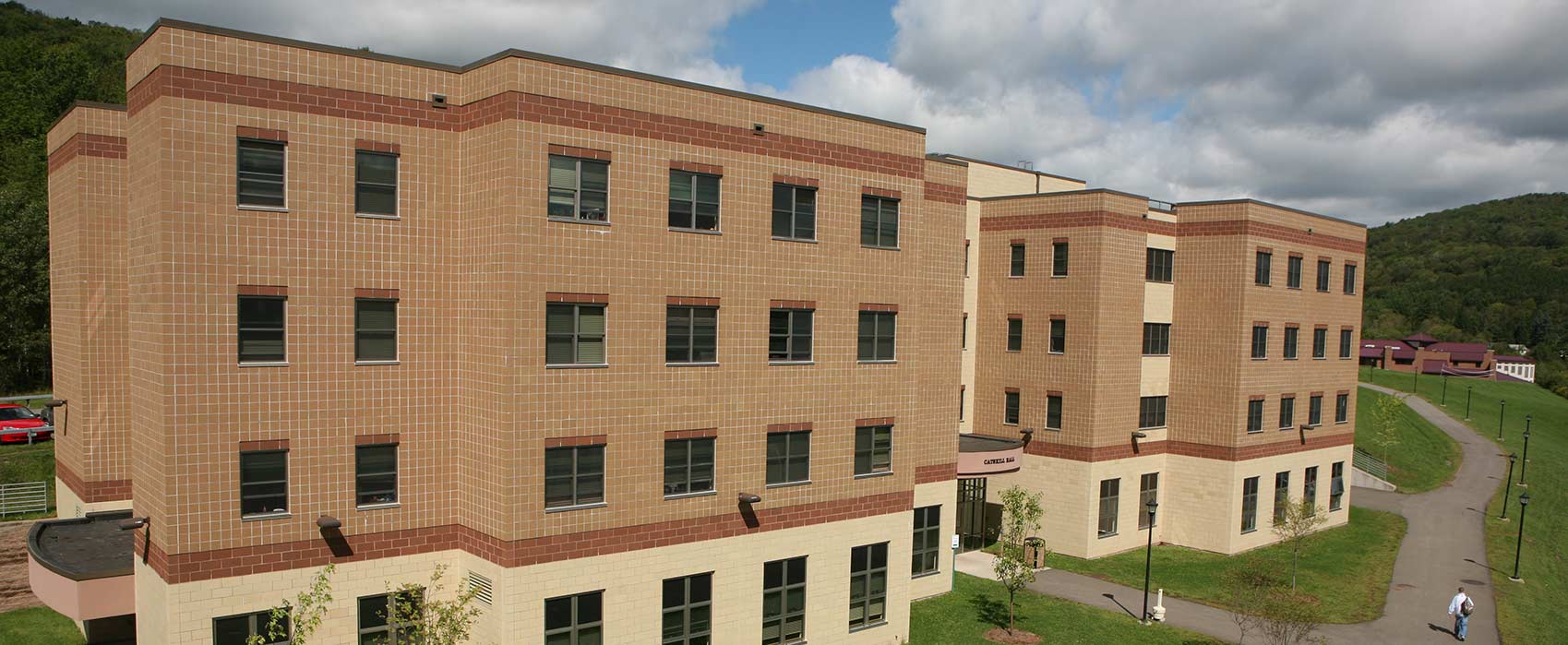 Catskill Hall
Catskill Hall
Catskill Hall is an upper division Residence Hall available to continuing students, transfer students, and incoming international students. To be eligible to live in Catskill, you must have earned at least 15 academic credits and have no significant judicial history.
Catskill Hall is a 150-bed suite-style residence hall with suites that house 6 residents. There are two types of suites containing either 3 double rooms or 2 double rooms and 2 single rooms. Each suite has a living room, two showers, separate toilet room and 1-2 sinks. The first floor of Catskill has a recreational room with television, pool table and ping pong table. There is also a laundry facility, conference room, and a kitchen area.
Student Bedrooms
Each resident is provided with a mattress, bedframe, desk, desk drawers (moveable), desk chair, lamp and wardrobe. Residents are encouraged to arrange furniture to meet their needs. For more information regarding the bedrooms, please see the Catskill Hall Room Measurement information on the FAQ section of this web page.
Living Room
Each suite has a living room which comes with a loveseat, seat and coffee table. The living room area also has counter space with cabinets above and below it.
Main Entrance
The first floor is the entrance students will use most during the day to go to classes. The Resident Assistant Office is off of the lobby area. The Complex Coordinator's Office is located in the Residence Life Office, 111 Catskill Hall. There are also vending machines located in the lobby.
Laundry Room
The laundry room is on the first floor and is open 24 hours.
The "Blue Room"
This room serves as Catskill's recreational room. It has a television, ping pong table and pool table. Residents can check out equipment for the games from the Resident Assistant Office.
The Great Room
This room is used by the campus to hold special events. In the evenings, it serves as a quiet study room for Catskill Hall residents. It is also used for Catskill Hall activities and community meetings.
The Kitchen
The kitchen is located off of the Great Room and is available to residents for limited use.