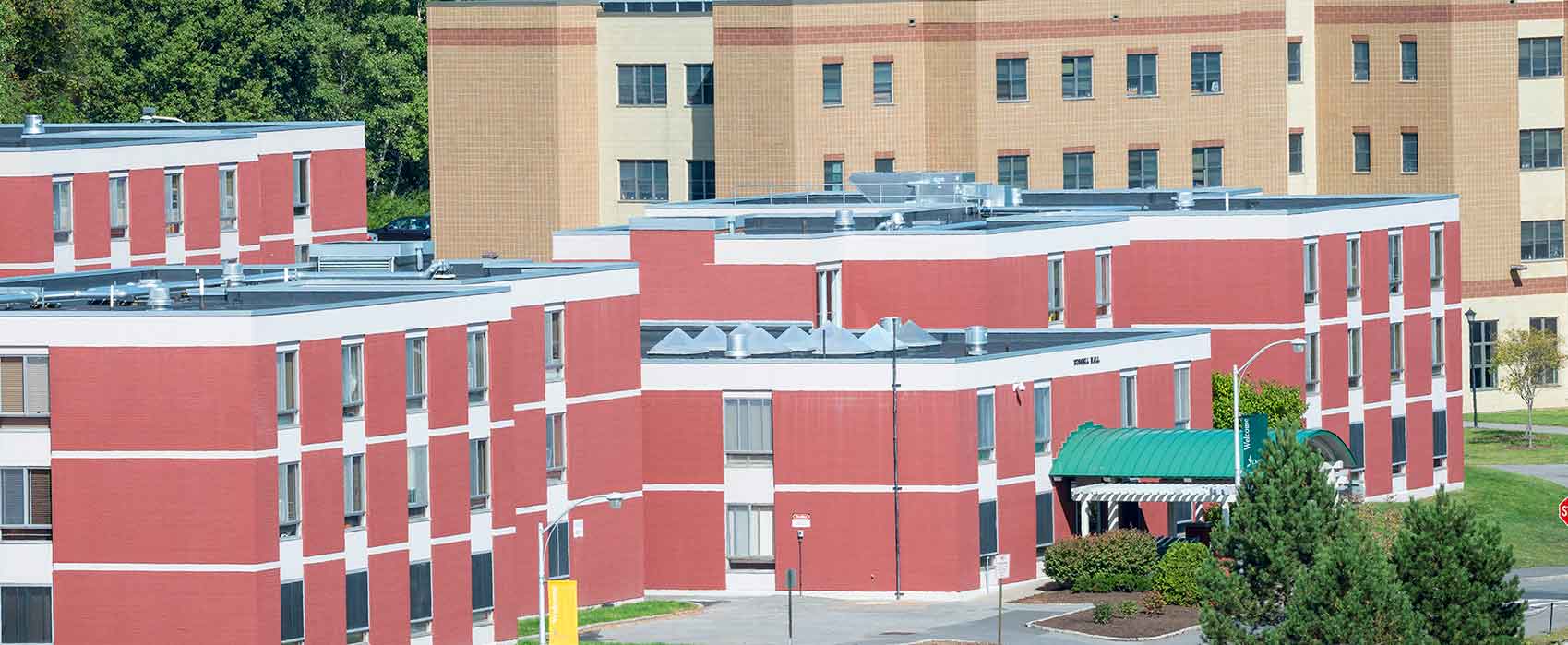 Russell Hall
Russell Hall
Russell Hall is the largest residence hall at SUNY Delhi, housing approximately twice as many students as any of the other halls. Despite its overall size, there are small, close-knit environments on each floor.
Each floor has multiple sections and several Resident Assistants to meet the needs of the residents. Each section has a recently renovated bathroom with two showers, two toilet stalls, and three sinks. Russell Hall offers mainly double rooms with some single rooms. There is a large laundry room in the basement of the building.
Building Features
Entertainment Lounge: This lounge offers a large TV, seating, and two pool tables for relaxing. It is located off the main lobby on the first floor.
Study Lounge: This large room has seating and study tables that allow students an environment to focus on academics. It is located on the second floor in the middle of the building.
Kitchen: Russell offers students a full kitchen to utilize.
Special Interest Areas
LGBTQ+ Ally Area: This special interest housing area in Russell Hall welcomes any student in the LGBTQ+ community, as well as allies. Residents in this community have the option of living in gender-inclusive housing, with access to the LGBTQ+ Ally lounge within Russell Hall, and access to a Peer Mentor who will provide office hours, guidance, and specialized programming. Questions regarding this area can be directed to the Office of Residence Life at 607-746-4630.
24 Hour Quiet Hours Area: This area encompasses the 3rd floor, quads J,K,L of Russell Hall and provides an environment that best promotes study, rest, and relaxation.
Nursing Living Learning Community: The first floor, quads J,K,L hosts the Nursing Living Learning Community. This community is designated for students in the Nursing program. Residents have access to the Nursing Resource Center, which is home to various models, books, and supplies to help prepare nursing residents for their classes and tests. In addition to the resource center, there are Peer Mentors who live in the community. These Peer Mentors hold study hours and specialized programming for the residents in the community.
Veterinary Science Technology Living Learning Environment: This unique environment is primarily for first-year Veterinary Science Technology students. The area offers first-year students assistance from second-year Vet Sci Peer Mentors and Resident Assistants who are academically successful.
---
Staffing
The main lobby of Russell Hall offers the Resident Assistant Office and the two Residence Hall Directors' offices. Resident Assistants are in their office in the evenings and the Residence Hall Directors are in during the day on weekdays.
---
For more information, please contact one of the Russell Hall Residence Hall Directors.