2020 SUNY Delhi Career Fair
2020 SUNY Delhi Career Fair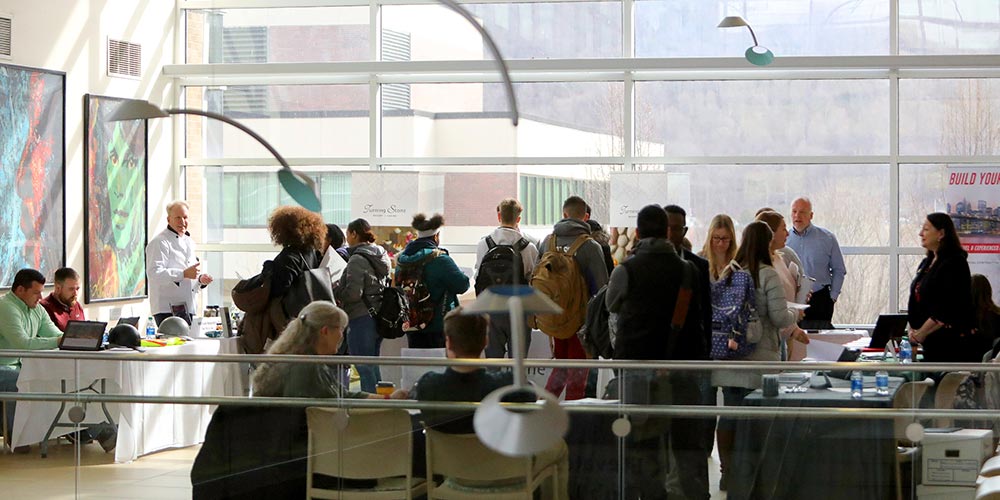 SUNY Delhi's campus-wide Career Day had a great turnout Wednesday with approximately 300 students connecting with 35 employers about job opportunities, internships, and summer jobs.
"We had a lot of traffic all day and have received very positive feedback from both employers and students about the event," said Kim Muller, applied learning and career specialist at SUNY Delhi. "It was a very productive day."
Leonard Mitchell, executive chef at 1000 Islands Harbor Hotel in Clayton, NY, was impressed with how well-prepared students were for interviews and how professionally they conducted themselves.
"I was able to connect with 12 qualified candidates for culinary internships and line chef positions," Mitchell said. "As a 1981 Delhi hospitality alum myself, I was proud to see how Delhi invests in students and prepares them to create opportunities for themselves."
Maureen Jacobson, vice president of Candela Systems Corporation, also connected with many potential candidates for positions in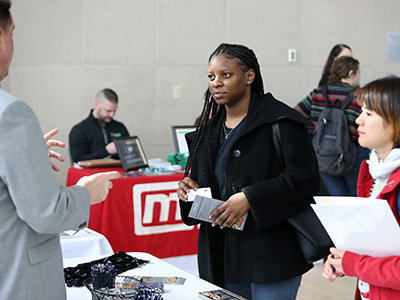 their company in the electrical and energy systems industry.
"We have had phenomenal success in hiring some of our best employees from SUNY Delhi in the past," she said. "Delhi students tend to be very professional and have a well-rounded education. We are always happy to meet with potential employees here."
According to Muller, faculty are already being asked to write recommendation letters for students who connected with possible jobs. Even students who didn't find jobs within their field appreciated the opportunity to practice networking and speaking with employers.
"One student came in really nervous but said the experience helped her tackle those nerves and feel more confident next time. The event really served multiple purposes for the attendees."
Learn more about SUNY Delhi's Applied Learning & Career Center.