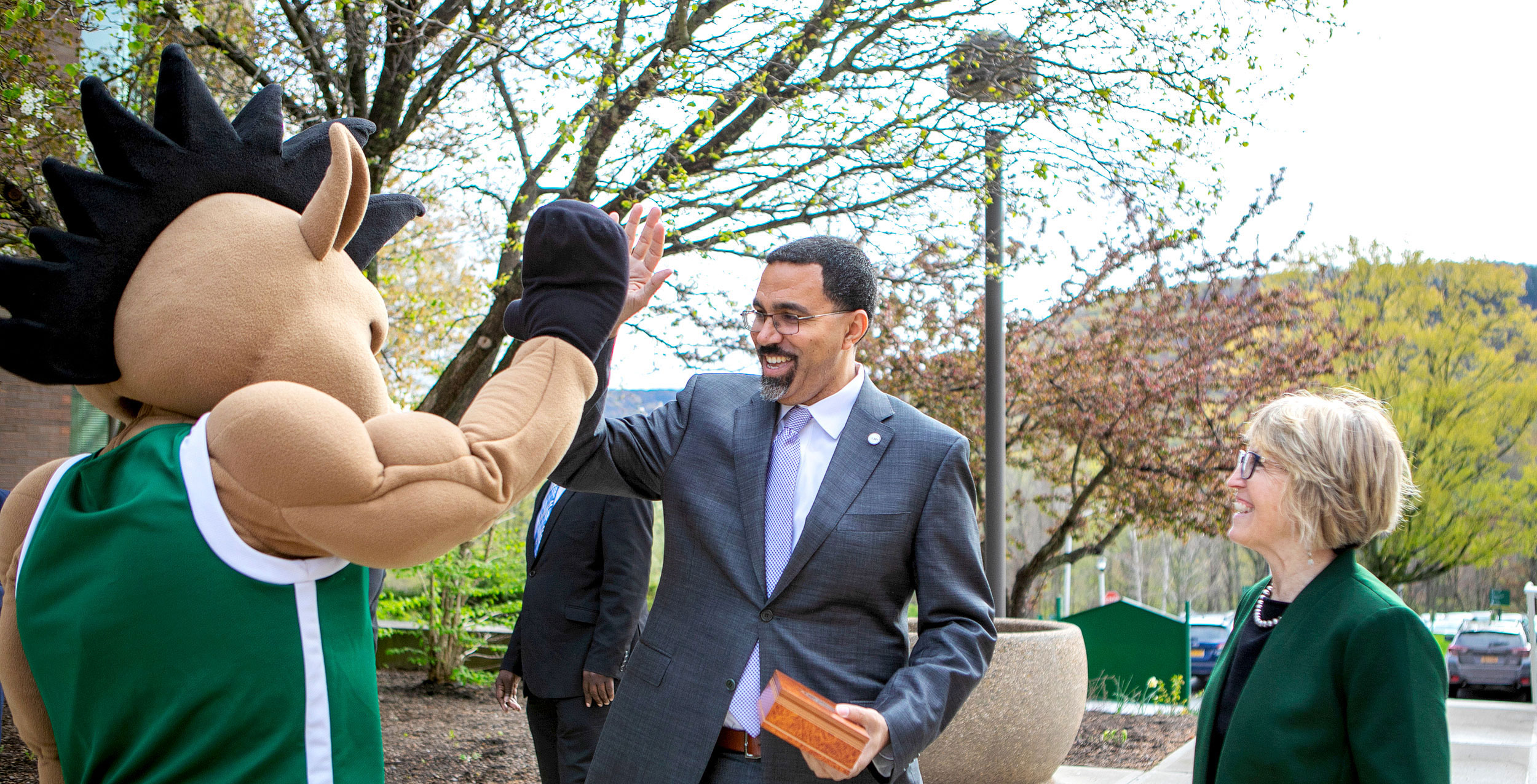 SUNY Chancellor John B. King, Jr. Visits Delhi
SUNY Chancellor John B. King, Jr. visited SUNY Delhi on Tuesday, May 2, on his tour of all SUNY campuses since starting in his position this January. At SUNY Delhi, he toured academic facilities and classrooms and met with students, faculty, staff, and community leaders to learn about what makes SUNY Delhi unique and how the college supports student success.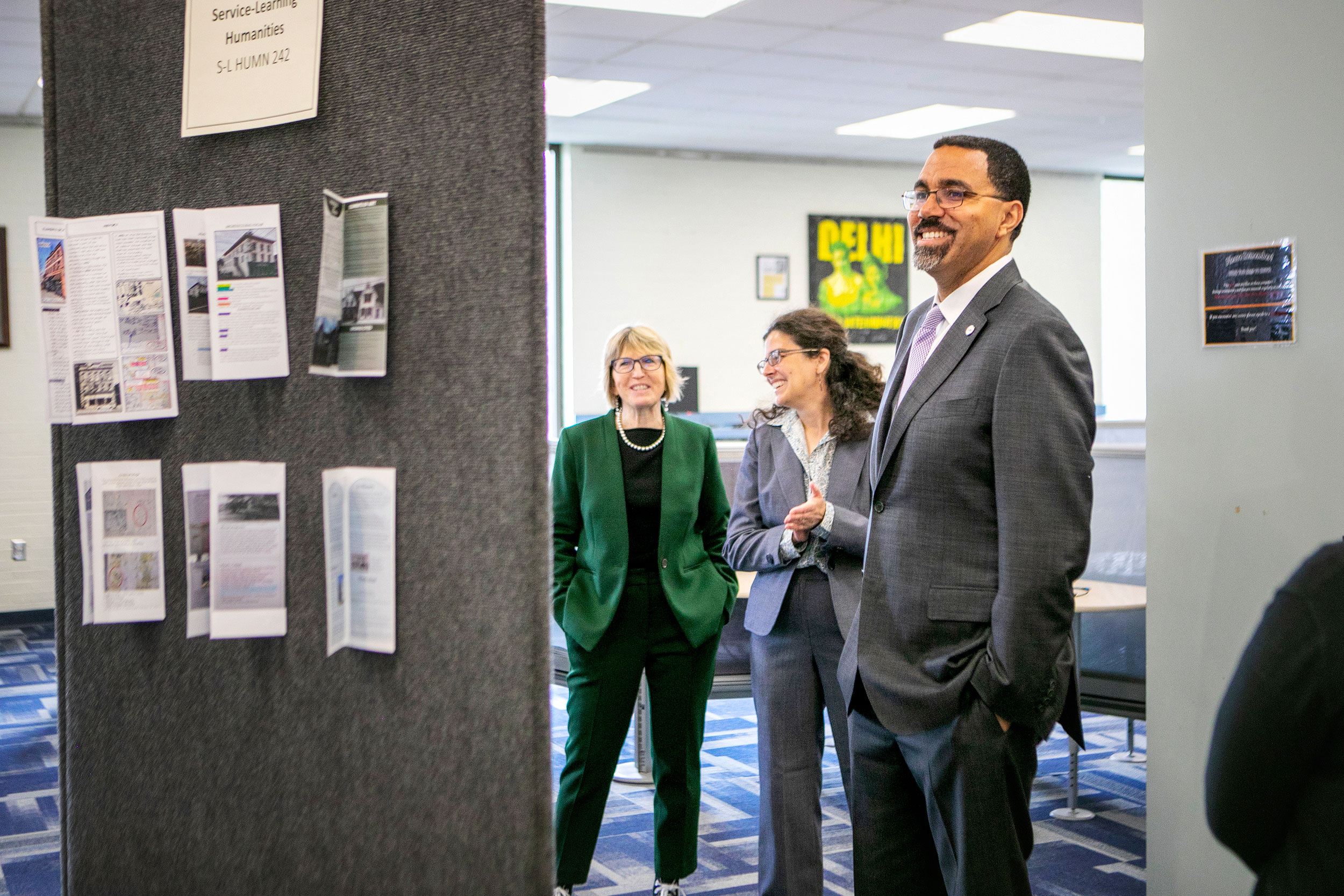 After being greeted by Dr. Mary Bonderoff, SUNY Delhi's officer-in-charge, and the college mascot Blaze the Bronco, the Chancellor viewed a student achievement exhibit at the Resnick Library. With research and art projects in architecture, biology, history, veterinary science, and more on display, Library Director Carrie Fishner and Professor Lisa Tessier talked about Delhi students' interests and achievements in various topics and disciplines.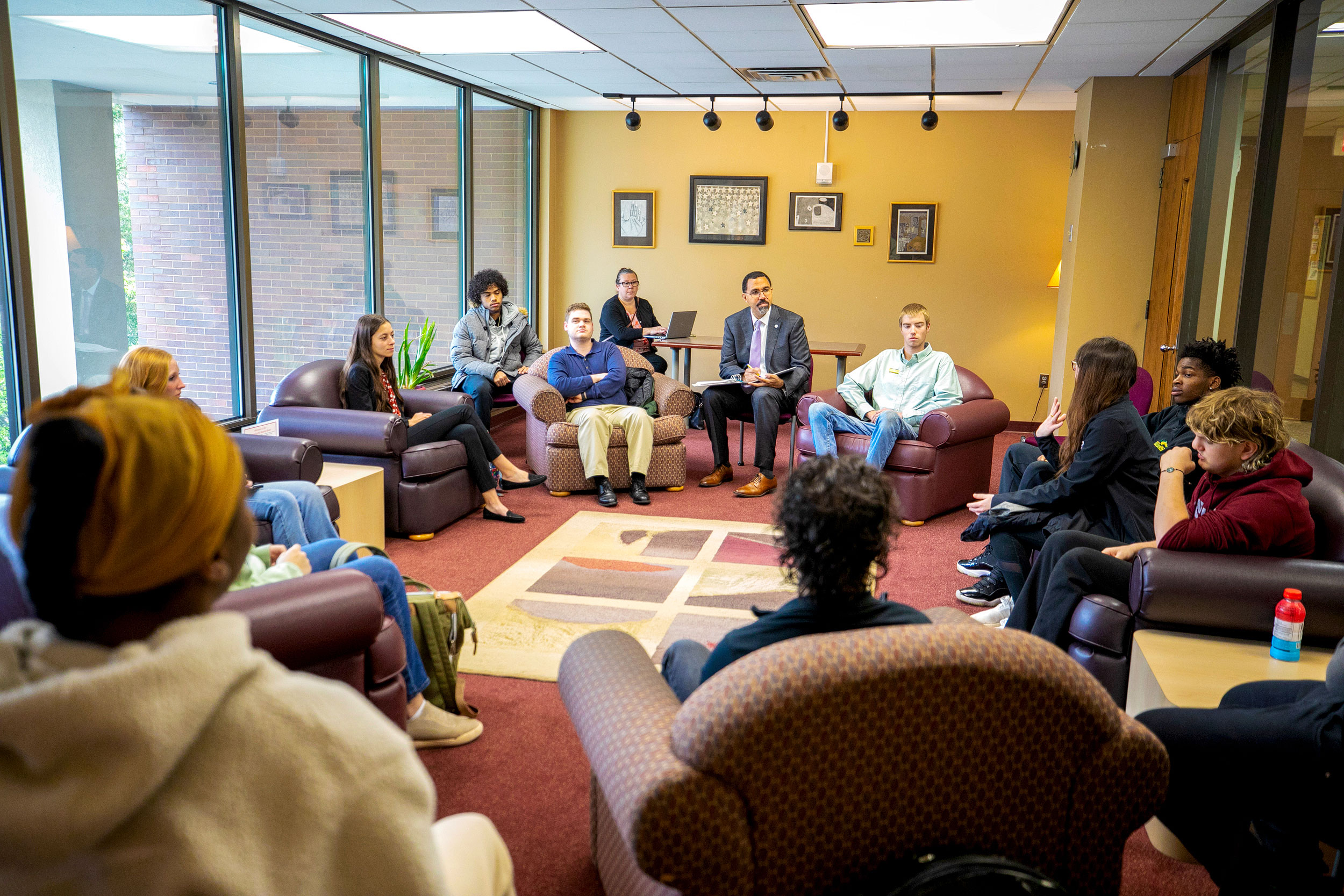 Chancellor King then engaged in a roundtable discussion with a diverse group of students on the third floor of Bush Hall. Dr. King shared with the students his story of growing up in an unstable environment and how school became the safe, consistent place in his life, leading to a career in education that culminated in his current position as SUNY Chancellor. The students then shared with him their academic majors and reasons for choosing SUNY Delhi, which included hands-on learning, the diversity of available academic programs, being treated like individuals instead of numbers, and a desire to interact with other students from many different backgrounds. Dr. King was also interested in any improvements the students would like to see on campus and across SUNY. Responses varied from food options and equipment needs to more diversity among faculty and staff.

Students participating in the discussion included Alexis Schwarz, Grace Thomas, Albert Osterman, Clyde Van Dyke, Christopher Bunt II, Rafia Umar, Elizabeth Brown, Marissa Lombardi, Karter Small, Divine Adenekan, Daniel Luna, and Mavenson Therneus.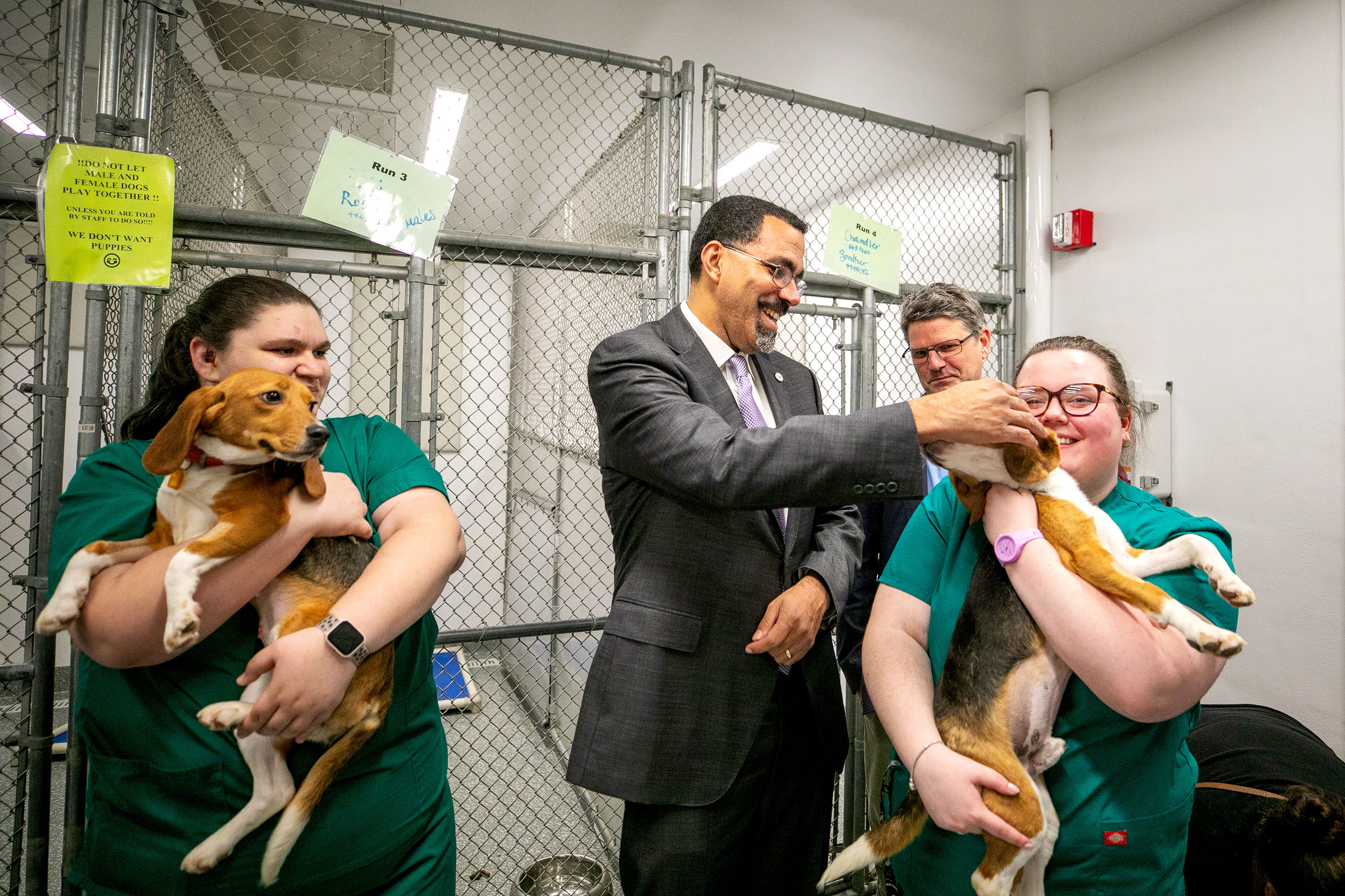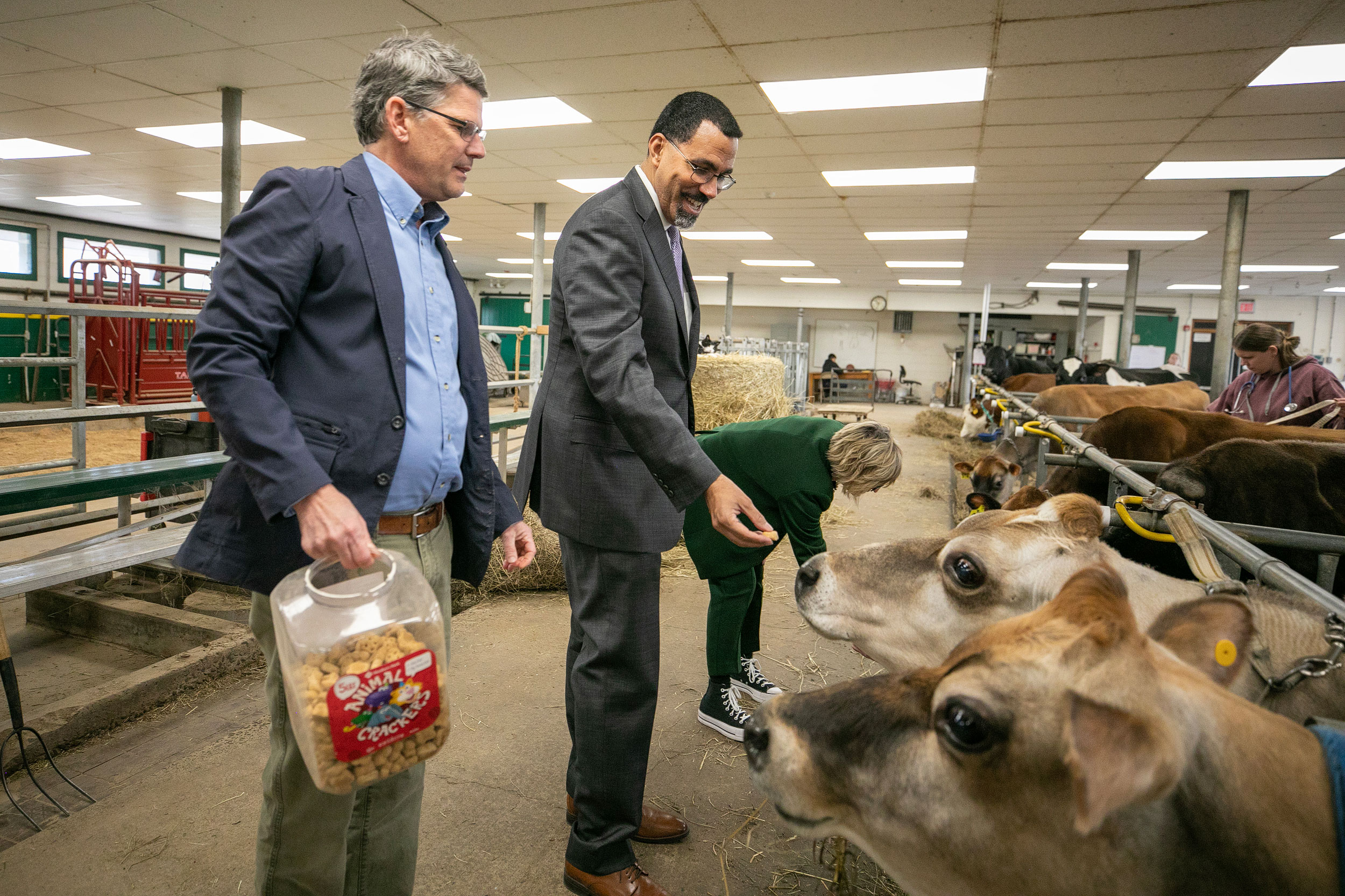 The Chancellor was given a 5-minute car ride to valley campus, an off-campus site that hosts SUNY Delhi's college-owned golf course, a turf education center, a greenhouse, carpentry and automotive labs, the college farm, and temporary classrooms for veterinary science during Farnsworth Hall's renovation to become a state-of-the-art animal hospital. Dr. Bret Meckel, dean of the School of Veterinary and Applied Sciences, showed the Chancellor around as they met with students caring for puppies and visited a surgical suite and a classroom with diagnostic equipment such as a dental x-ray machine. During a tour of the farm building, the Chancellor learned that Delhi's teaching farm is home to large animals such as alpacas, cows, sheep, and horses, and that having a large animal farm on a college campus is so rare that Delhi often hosts veterinary science students from other colleges so they can learn about caring for large animals on our farm.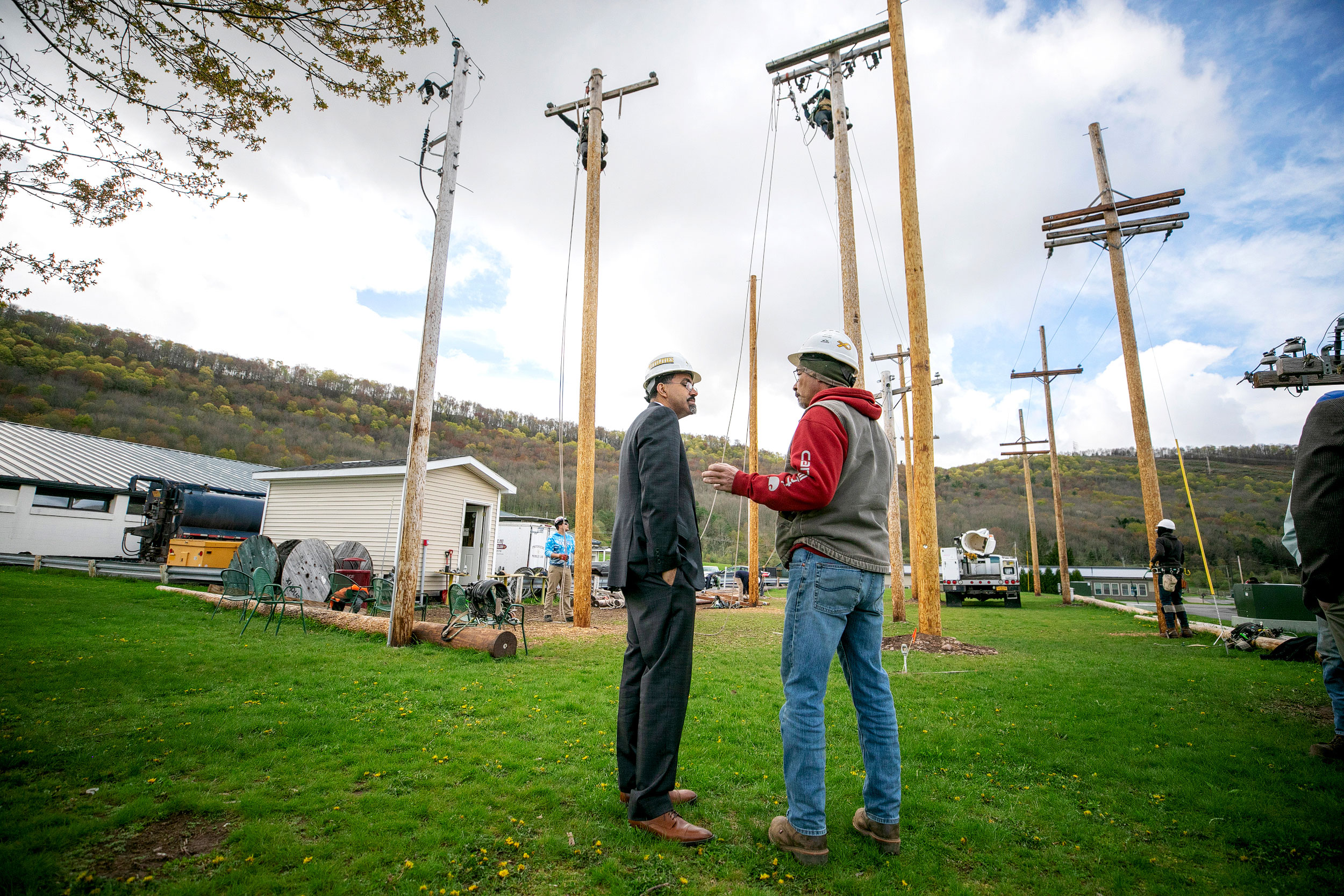 At valley campus, the Chancellor also visited the pole yard, a hands-on learning site to students in the Electrical Construction and Utility Operations program. As students climbed the poles during their class, John Gasstrom, CEO of Delaware County Electric Cooperative, talked to the Chancellor about the co-op's pole donations to SUNY Delhi as well as partnering with the college to become a statewide leader in workforce development for utility operations and line workers.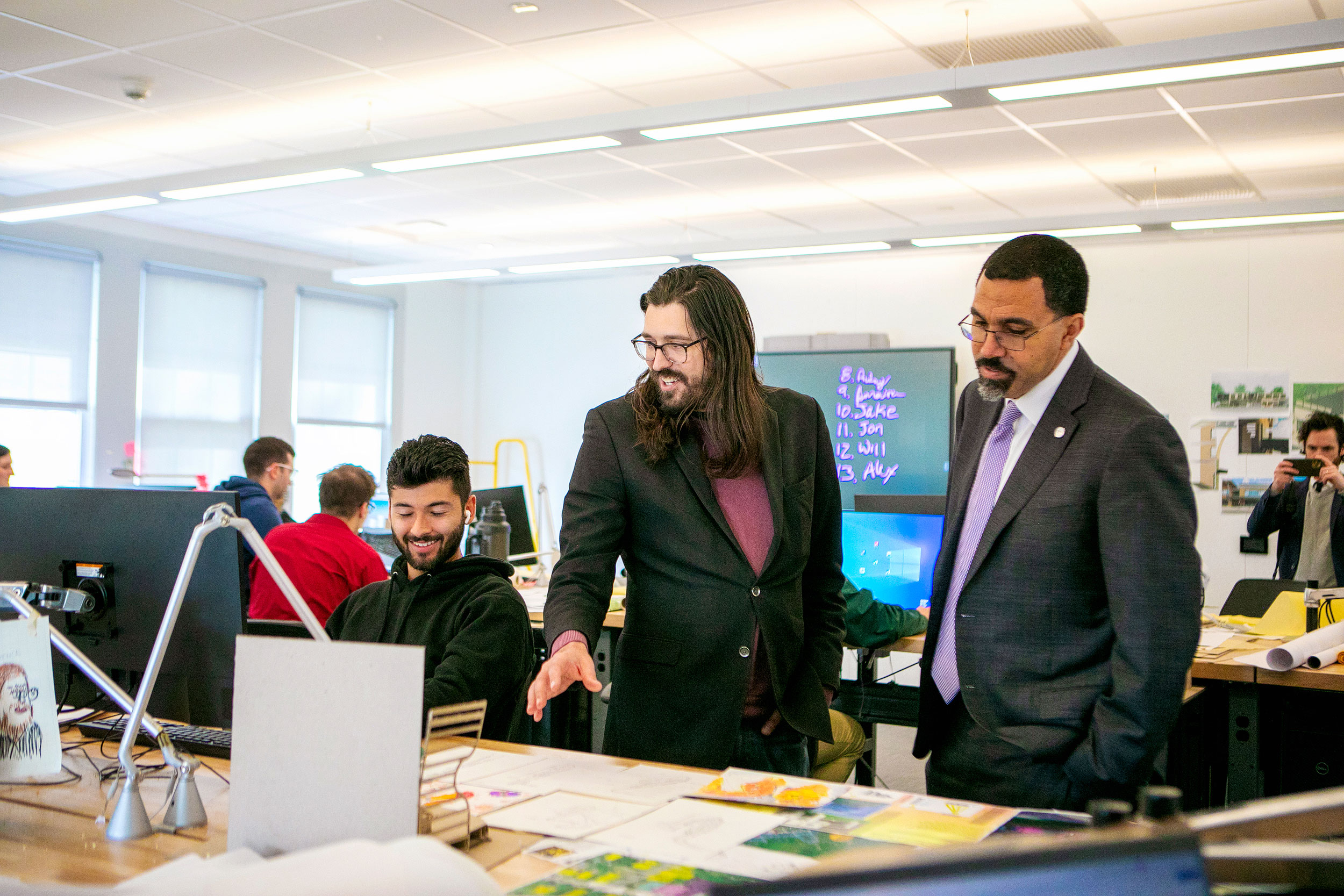 Back on the main campus, the next stop was South Hall, SUNY Delhi's newly renovated, state-of-the-art learning environment for architecture students, which boasts fully equipped drafting studios and the latest industry-standard design software. Associate Professor Michael Tweed and his third-year architecture students showed some of the musical instrument-inspired design projects they are currently drafting on their computers.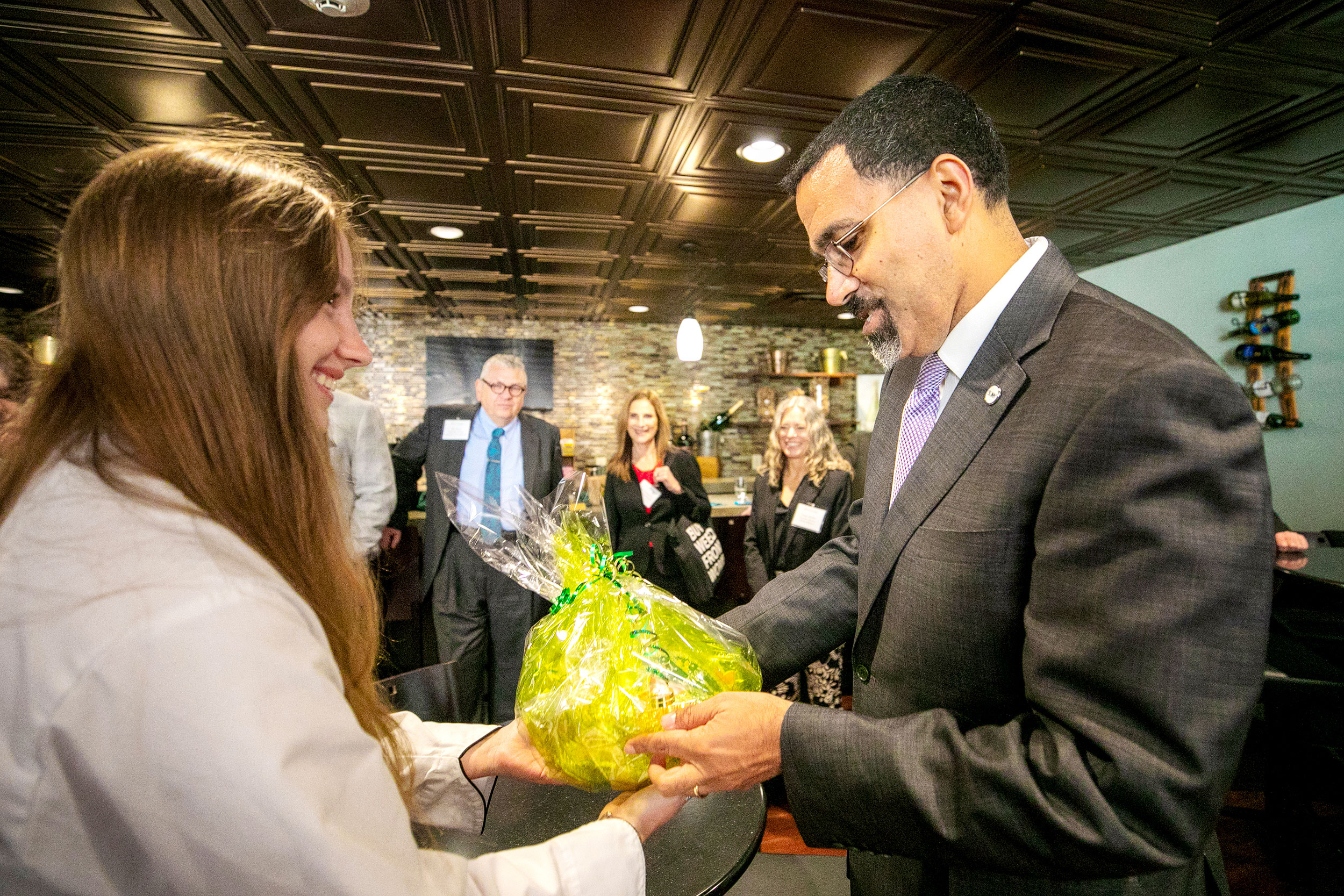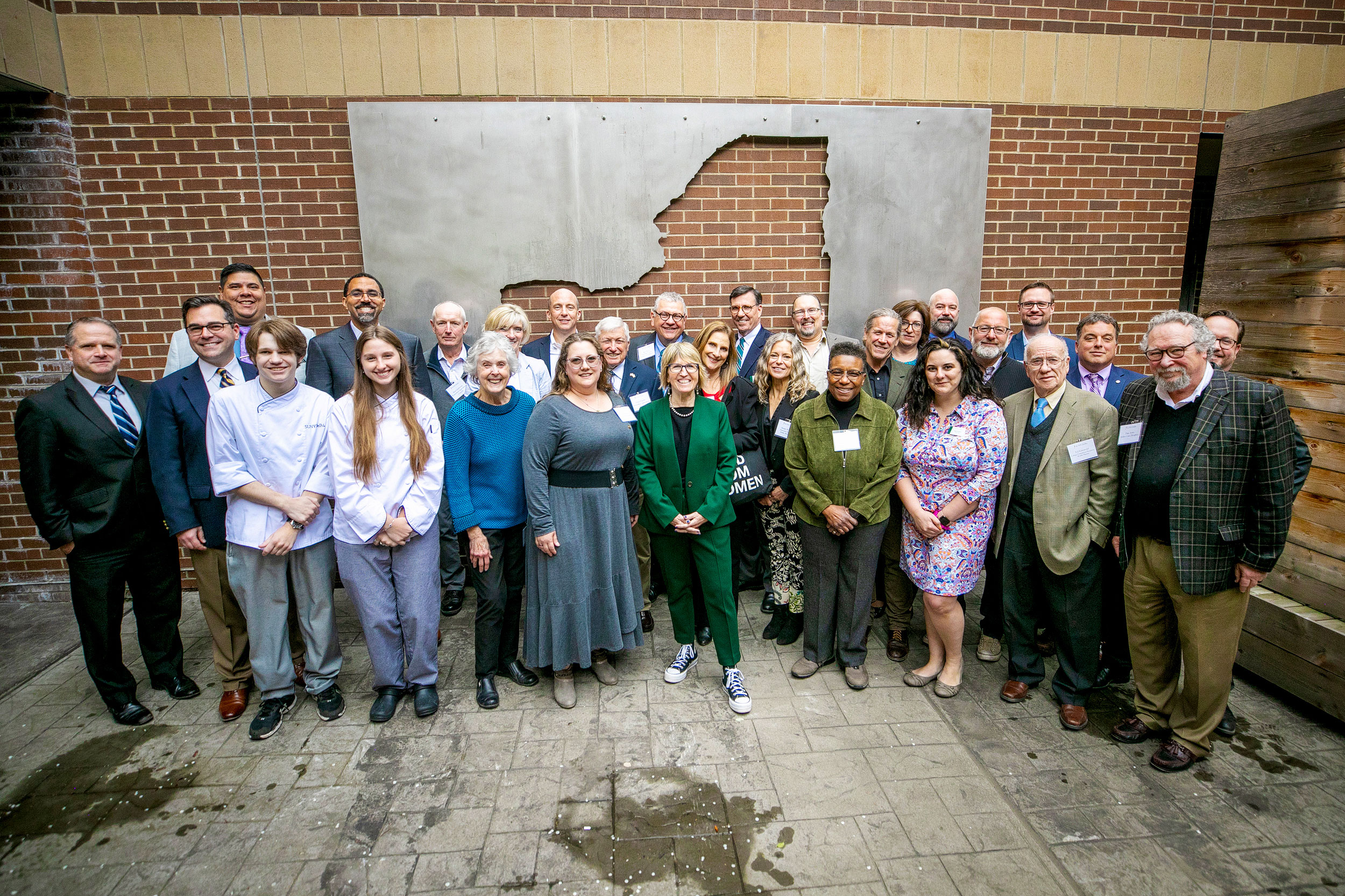 The day ended with a networking event at Kennedy Lounge in Alumni Hall where local politicians, business leaders, and community partners had an opportunity to mingle with Chancellor King. An impressive array of pastries for the event was prepared by culinary arts students in Professor Julee Miller's class. The students also gifted the Chancellor with a gift basket of baked goods made by students to take home with him.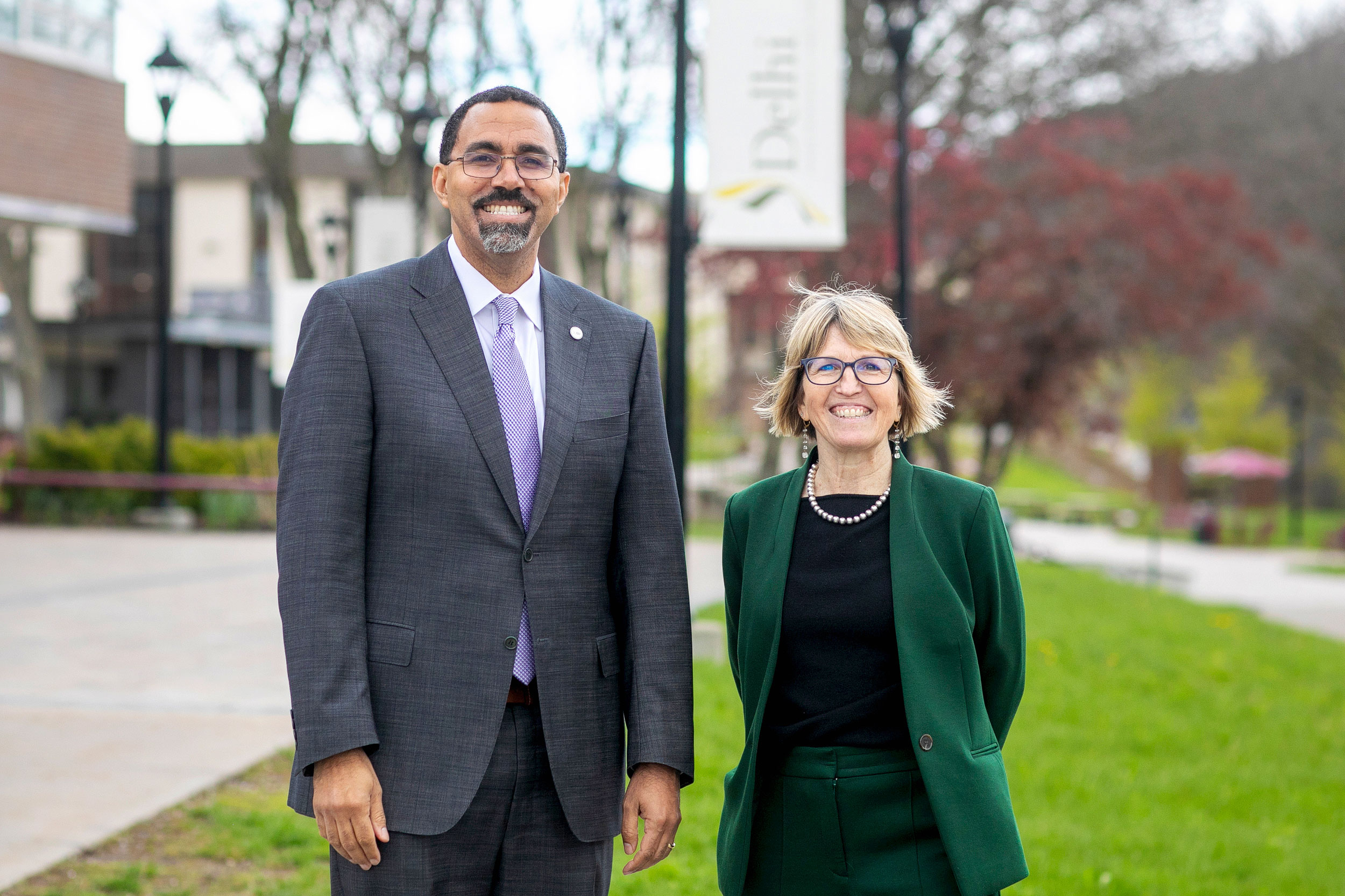 In private meetings with SUNY Delhi's senior leadership and with Dr. Bonderoff, the Chancellor wanted to learn about what makes SUNY Delhi special and how the SUNY System can best support the campus. He also talked about his commitment to SUNY being the best public college system in the country and the four pillars of his philosophy which perfectly align well with SUNY Delhi's priorities: student success; research and scholarship; diversity, equity, and inclusion; and upward mobility and economic development.

Delhi was the 56th stop on a tour that will take the Chancellor to each of the 64 campuses in the SUNY system this spring.