SUNY Delhi Culinary Team Wins Chesapeake Culinary Cup
SUNY Delhi Culinary Team Wins Chesapeake Culinary Cup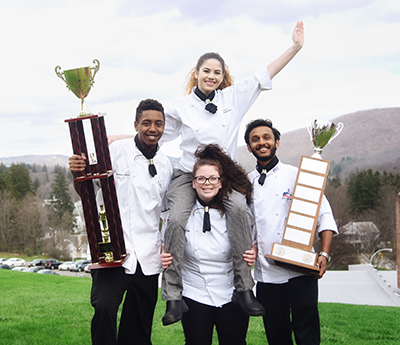 The SUNY Delhi culinary team took first place in the 9th Annual Chesapeake Culinary Cup competition April 29 at Anne Arundel Community College in Arnold, MD.
The Chesapeake Culinary Cup is an American Culinary Federation-sanctioned competition open to regional postsecondary culinary arts programs. The event requires four-member teams to plan and execute a four-course menu consisting of three entrees and one warm dessert. SUNY Delhi Culinary Arts majors Jerusaline Johnson, Matthew Julius, Emily Tekel, and Carly Yezzo earned two gold medals and two silver medals for their individual dishes, resulting in the overall first place win.
"The competition was fierce and we were able to overcome minor technical problems to bring home the trophy," said Jerusaline "Jerry" Johnson. "This win is especially close to my heart because I'm graduating this spring. It's wonderful to end my college career with this victory."
Team Delhi was coached and mentored by Assistant Professor Sean Pehrsson and Instructors James Margiotta and Victor Sommo. The faculty members collaborated with the students on planning the menu and have overseen team practices since February.
"We spent countless hours perfecting the dishes," said Professor Pehrsson. "Each student had a great attitude and work ethic. We are proud to have the cup in Delhi for the year and look forward to returning again next year to defend it."
SUNY Delhi's culinary arts program ranks among the best public college programs in the United States. In the last decade, Delhi students have won more than 500 individual and team medals, including multiple American Culinary Federation (ACF) state, regional, and national titles.