University Police Adds New Officers
University Police Adds New Officers
Keeping Students Safe on Campus
New York State University Police at Delhi has added three new police officers to its staff, bringing the department's personnel to a total of eight officers, three lieutenants, a police chief, two dispatchers, and a department secretary.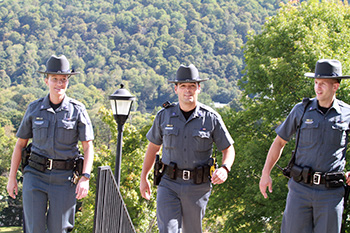 "We serve the campus 24 hours a day, seven days a week," says Chief Martin Pettit. "The addition of three new officers allows us to have better coverage at all times, providing foot, bike, and vehicle patrols to all areas on campus to respond to our students' needs and keep them safe."
New officers Steven Lansing of Oneonta, NY, Emily Martin of Meridale, NY, and Shane Sullivan of Canastota, NY, are excited to work with students.
"What makes our work as campus officers unique is that we serve a very specific demographic: young adults who are away from their families for the first time," says Steven Lansing. "These are typically good, respectful students."
"We develop relationships with the people who live, work, and study here," says Shane Sullivan. "While we enforce laws, we don't want to be intimidating. We are members of the campus community and students appreciate that we interact with them in a kind, helpful way."
Emily Martin comes from a family background of police officers. "I got to ride along in my aunt and uncle's police cars as a kid. Here, I can be the one to inspire someone. I love interacting with students and am happy to provide career advice to some of our criminal justice majors."
Chief Pettit is excited about the energy that the new officers bring to his staff. "They all have bachelor's degrees so they have first-hand experience with campus life and student issues. I believe they will be able to earn our students' trust and serve them well."
University police are fully sworn, certified New York State police officers with the authority to investigate and enforce all laws and regulations. At Delhi, officers work in 12-hour shifts, patrolling, taking emergency medical calls, responding to any complaints, and assisting students with vehicle lockouts, jump-starting, and other needs. The department also provides safety education and awareness on campus.
Pettit sees the role of the university police department as part of the overall educational experience at SUNY Delhi. "The campus functions like a community in which we all have rights and responsibilities. Every interaction widens our students' frame of reference and prepares them for life beyond college."