O'Connor Center Celebrates 20 Years of Community Service
O'Connor Center Celebrates 20 Years of Community Service
SUNY Delhi's O'Connor Center for Community Engagement is celebrating 20 years of community service and volunteerism with special activities planned for Friday, September 28 and Saturday, September 29.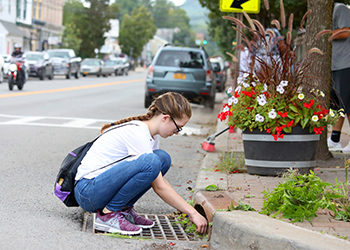 "Community service is an integral part of the SUNY Delhi culture," says Michele DeFreece, Senior Staff Assistant at the O'Connor Center at SUNY Delhi.

"Reaching our 20th year of organized volunteerism speaks to our strong commitment to supporting our community. Nearly 80 percent of our students are involved in service activities through clubs and organizations, contributing around 20,000 hours of service every year. This is a great point of pride for our college."
On Friday, September 28, the campus community is invited to join a celebration in Farrell Commons from 3 to 5 p.m. SUNY Delhi President Michael Laliberte will speak at the event, along with current and former O'Connor Center staff and students. The A. Lindsay & Olive B. O'Connor Foundation will receive a community recognition award for their generous support of the O'Connor Center's mission throughout its 20-year history. There will also be refreshments and a photo display highlighting the O'Connor Center's history.
On Saturday, September 29, SUNY Delhi students will be engaging in a number of community service projects around the Greater Delhi community. The O'Connor Center has collaborated with around 50 community partners to host activities such as washing windows for small businesses, baking with residents of The Arc of Delaware County, gardening, washing cars, and cleaning up Main Street, the Woodland Cemetery, and Catskill Mountain hiking trails.
"We are expecting at least 100 students to participate," DeFreece says.
Students interested in volunteering can stop by the O'Connor Center to find out about available projects. All students will be getting a 20th Anniversary t-shirt to wear during Community Service Day.
The O'Connor Center for Community Engagement is centrally located in the Farrell Center on the SUNY Delhi campus. Its mission is to serve as a clearinghouse for community service and volunteerism, benefiting students, non-profit organizations, and the citizens of Delaware County and beyond. The Center helps prepare students to become socially responsible citizens and leaders with a passion for volunteerism.