SUNY Delhi Students Honored with Chancellor's Awards
SUNY Delhi Students Honored with Chancellor's Awards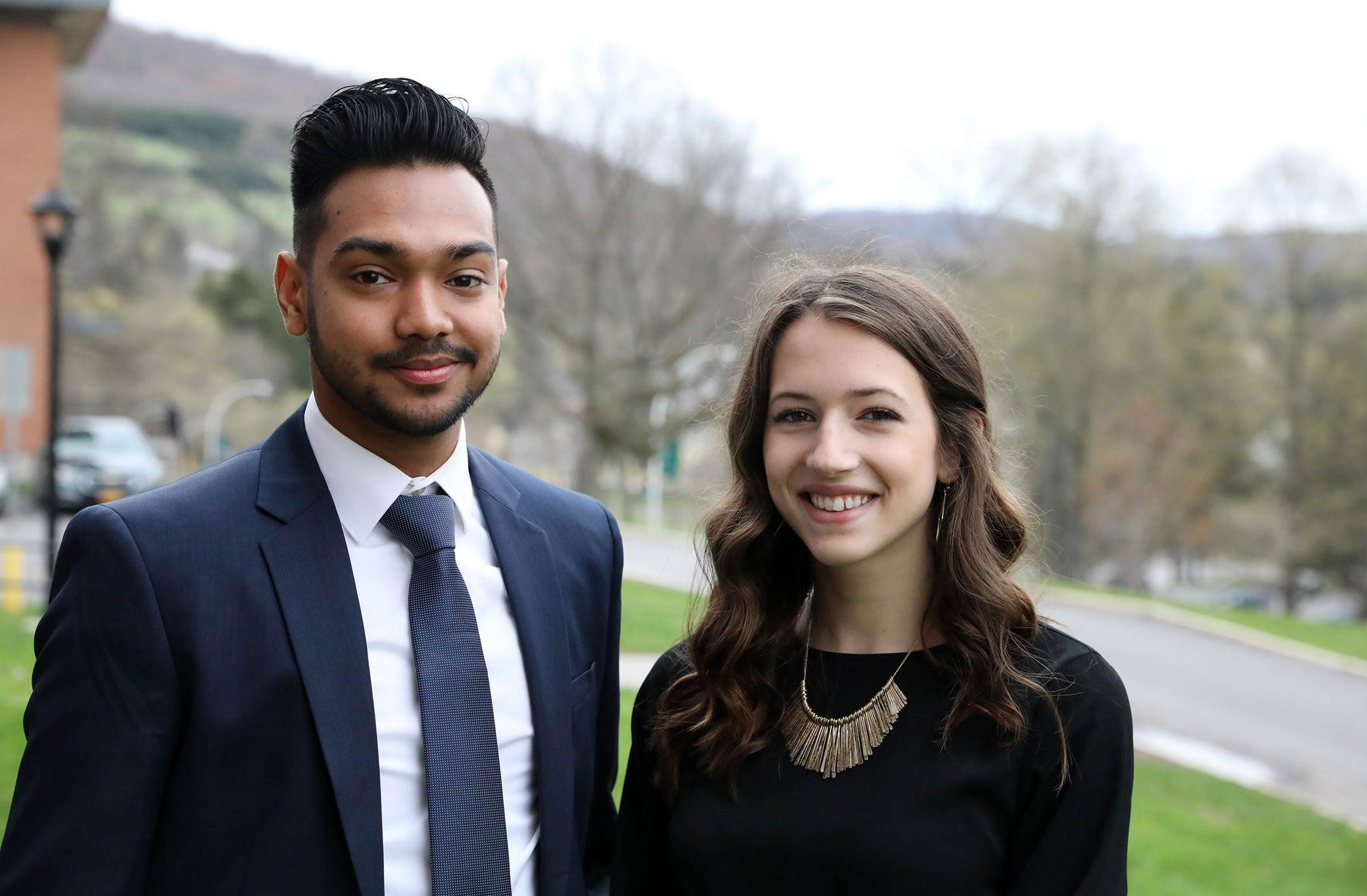 (04/24/2019) — Two outstanding SUNY Delhi students have received the prestigious 2019 Chancellor's Award for Student Excellence. The award honors State University of New York (SUNY) students who have best demonstrated their integration of academic excellence with other aspects of their lives, such as leadership, campus involvement, athletics, career achievement, community service, or creative and performing arts.

Elise McIntyre, an Architectural Design and Building major from Red Creek, NY and Wilmington, NC, and Ryan Ali, an Information Technology Management major from Queens, NY, were among an elite group of students to be recognized by SUNY on April 24 at the Albany Capital Center in Albany, NY.

"Elise McIntyre and Ryan Ali exemplify the very best of our student body," said SUNY Delhi President Michael Laliberte. "They have fully embraced everything Delhi has to offer and, combined with their talents and interests, used it as an opportunity to grow into remarkable young professionals. I'm extremely proud of their accomplishments and thrilled to see their efforts honored with Chancellor's Awards. Their dedication to excellence will help them succeed in whatever goals they pursue in the future."

"Today's award recipients emerged from their campuses this year as the top scholars, athletes, performers, and achievers, as well as a tremendous source of inspiration," said SUNY Chancellor Kristina M. Johnson. "The students being recognized today made the choice to become leaders on their campuses, prioritize their studies, and serve their communities. Congratulations to this year's awardees, and I applaud you for pursuing excellence in all that you do."

Elise McIntyre's accomplishments at Delhi prove that you can achieve great academic success while being a nationally ranked student-athlete, and still find the time to make your community and campus a better place to be. Professor David Hultenius says that McIntyre's grade point average is one of the highest he's ever seen in his teaching career in the demanding field of architecture, and he relies on her assistance as a dedicated peer tutor to her fellow classmates. McIntyre participated in the Study Abroad program and visited Italy in her sophomore year to deepen her understanding of classic architecture. She is the recipient of the competitive Merrill Scholarship, a member of the Architecture Club on campus, and the winner of the Net Zero House design competition in her program. After graduation, McIntyre is continuing her studies at the University of North Carolina at Charlotte to pursue a master's degree in Civil Engineering.

McIntyre's academic success is matched by her achievements as an athlete. Starting out as an inexperienced cross-country runner in her freshman year, McIntyre's drive and determination eventually earned her the position of captain of her team and, most notably, as the USCAA National Student-Athlete of the Year for women's cross-country. With her performance, confidence, and leadership qualities, McIntyre has cultivated a culture of excellence within her team, leading Delhi women to their best team finish since moving to four-year athletics in the fall of 2018.

Elise McIntyre is also highly involved on campus and in the Delhi community, serving in the move-in crew for new freshmen, participating in an anti-bullying fair at the elementary school, and teaching dance classes at the local dance studio."I've watched Elise grow as a student, athlete, and person through her years at Delhi, and her willingness to work hard is an example of what all young students and athletes should aspire to," said Robb Munro, Head Coach for Women's Cross-Country.

Ryan Ali is a well-known and respected presence at Delhi, advocating for his fellow students in his many roles on campus. While excelling academically as a dedicated IT student, maintaining an impressive GPA, and achieving the Dean's list every semester, some of his most impactful accomplishments have taken place outside of the classroom.

Starting out as a Resident Assistant in his freshman year, Ali's ability to serve as a dependable leader and work with many different students became evident. Ali advanced to the role of Senior Resident Assistant in the largest residence hall on campus. Approaching each situation with empathy and understanding, he is a person others turn to when they need guidance.

Ryan Ali has been actively involved in many clubs and organizations on campus. As a native of Guyana and a member of the Black Student Union, he has committed himself to educate others about the cultures of indigenous people and celebrate the contributions of black students on campus.

Aspiring to make an even bigger difference, Ali serves as Vice President of the Student Senate. Described by John Padovani, Assistant Vice President of Student Life, as someone who "can make things happen and has the student body's best interest at heart," Ali is highly regarded by his peers, faculty, and staff alike. Ali's other roles on campus include being a Student Ambassador for SUNY Delhi as well as a Student Director on the Board of Directors for the College Association.

"It has been a pleasure to know Ryan," said Professor Barbara Sturdevant. "I'm confident he will succeed in any of his future endeavors." After graduation, Ryan Ali plans to pursue further education for a career in student life or college leadership.

At the university-wide event celebrating the recipients of the Chancellor's Award for Student Excellence, recipients were awarded a medallion and a certificate from the Chancellor. An awards reception for the recipients and their families followed the ceremony.