Students Tackle Big Topics in American Culture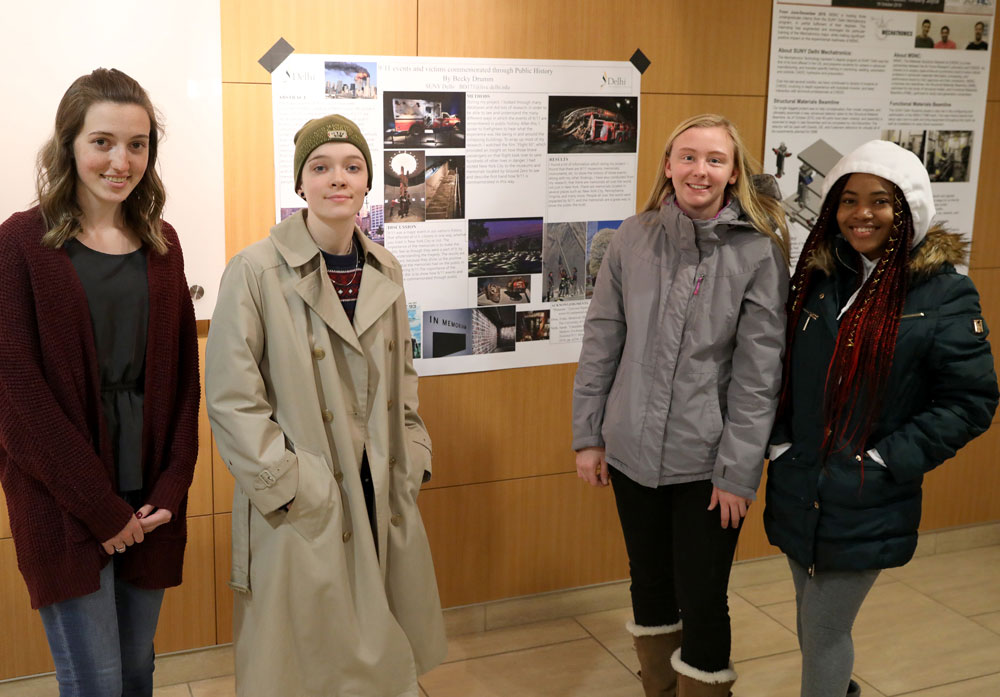 Honors students enrolled in the American Public History course at SUNY Delhi spent their fall semester researching nationally significant topics with which many of them also had a personal connection. According to Professor Terry Hamblin, who taught the class, students were charged with examining how the public interacts with history in contemporary American culture.
"The students chose their topics and showed a lot of dedication in pursuing them," Hamblin said.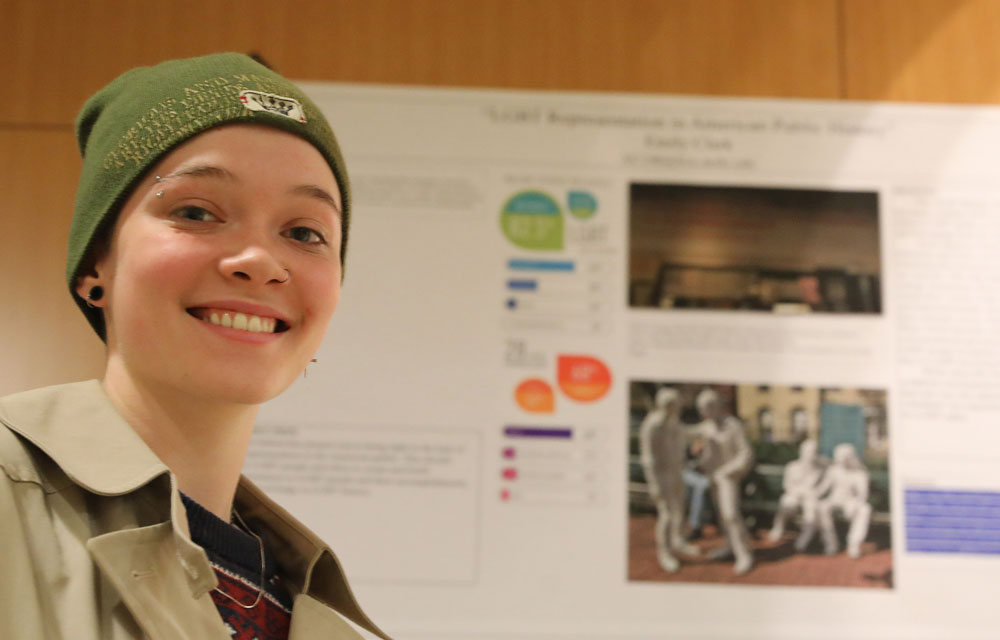 As a self-identified LGBT youth, Emily Clark, a major in SUNY Delhi's HVAC program, was interested in accurate, non-stereotypical representations of the lesbian, gay, bisexual, and transgender community in American society. While the community is well represented in the arts, Clark found that it was hard to find examples of recognition that focused on its accomplishments.

"There are a few monuments and museums, but mainly in so-called liberal states or areas of uprising and conflict," Clark said. "To settle for such slim acknowledgment would be an injustice."

Clark pointed out that public awareness about the LGBT community is important to diffuse misinformation and the stigma attached to it.

"For example, many teachers and health practitioners still don't have a lot of information, so people have to turn to specialists. Being educated about LGBT issues should be common knowledge to ensure that members of the LGBT community are able to find resources more easily. It is important for both physical and mental health reasons."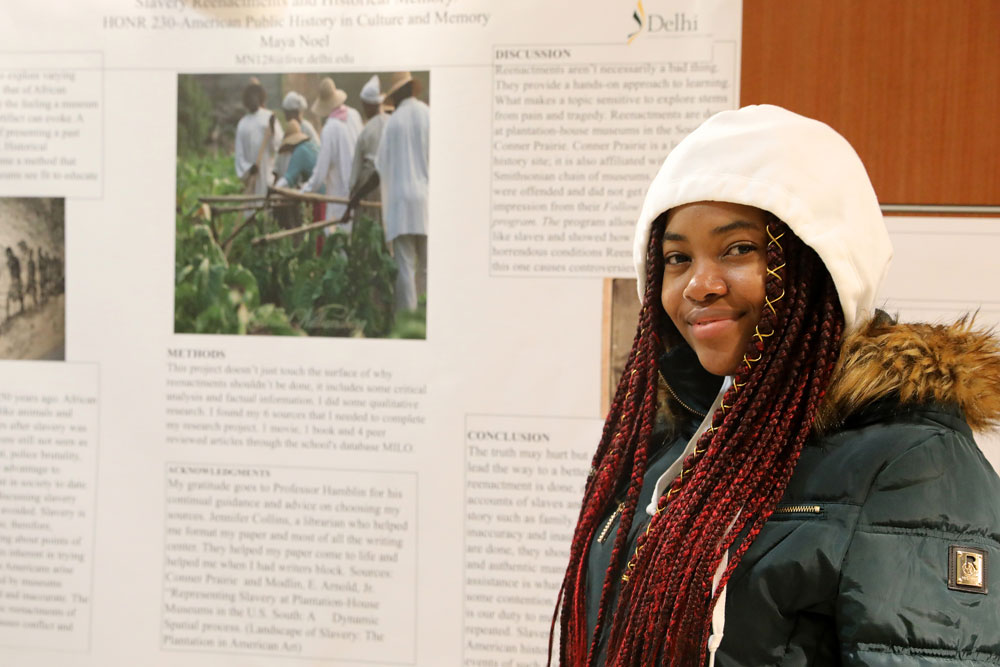 Maya Noel, a freshman in SUNY Delhi's nursing program, researched slavery reenactments and historical memory. Though the topic was sensitive, she challenged herself to explore it in order to become more mature and aware.

"There are two very opposing perspectives," Noel said. "On one hand, if a reenactment is done in an accurate way that includes the black narrative of a slave, the visual learning experience can help educate audiences. Both the slave and the enslaver narratives are necessary to convey the right message and emphasize how great America is today."

"On the other hand," she continued, "reenactments can be very harsh to see. There is still a lot of controversy and hurt associated with slavery, and reenactments can open wounds that have not yet completely healed. This is especially true if the story is told only from the slave master's viewpoint to commemorate their experience. For this reason, I think it's best to stay away from reenactments."

Noel was surprised to find that some plantation museums in the South now double as wedding and event venues. She considers dancing and partying at a site where many African-Americans worked and died to be offensive. Even though slavery has long been abolished, Noel said that its aftermath still exists in American society through discrimination and prejudice.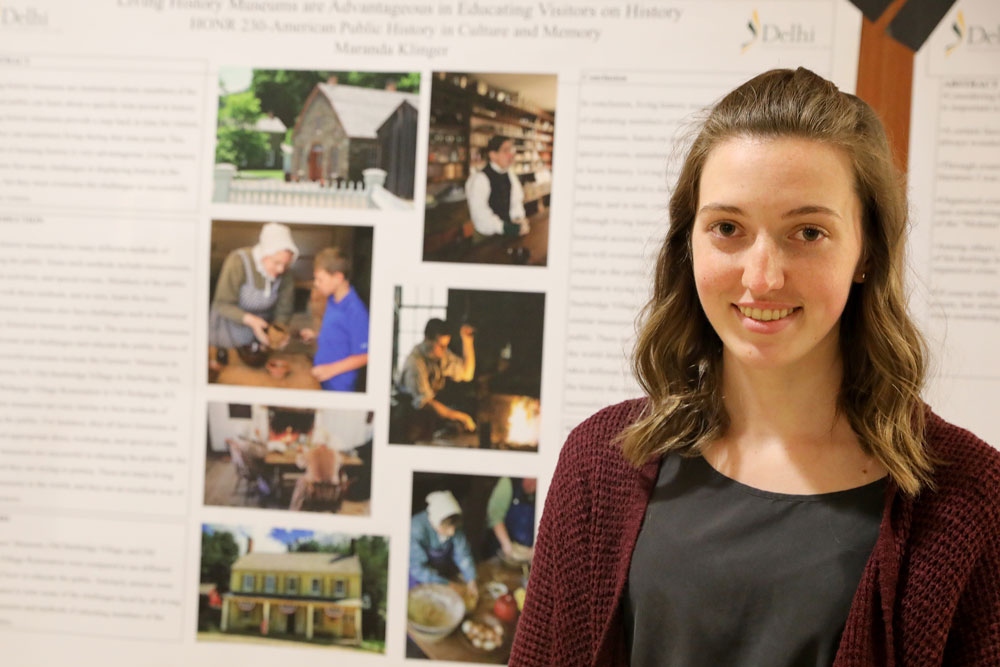 Veterinary technology major Maranda Klinger's research project also studied the challenges that living history museums face. Focusing on three museum sites in the Northeast – the Farmers' Museum in Cooperstown, NY, the Old Bethpage Village Restoration Museum in Old Bethpage, NY, and the Old Sturbridge Village Museum in Sturbridge, MA – Klinger wanted to examine what obstacles are involved in providing visitors with an experiential recreation of history.

"While a typical museum might seem boring, living history museums can really transport you back in time and bring a time period to life," Klinger said. "The staff is dressed in period costumes demonstrating life and work in a certain era, and visitors can engage in hands-on activities. It's a great way to educate people about history."

Problems arise when museums don't have the budget to do specialized research on a topic to ensure the accurate depiction of history. Only larger museums can typically afford research teams.

"It's important not to rely on biased information, especially when reenacting controversial topics," she said. "Generally speaking, however, living history museums are a very exciting way of learning about the past."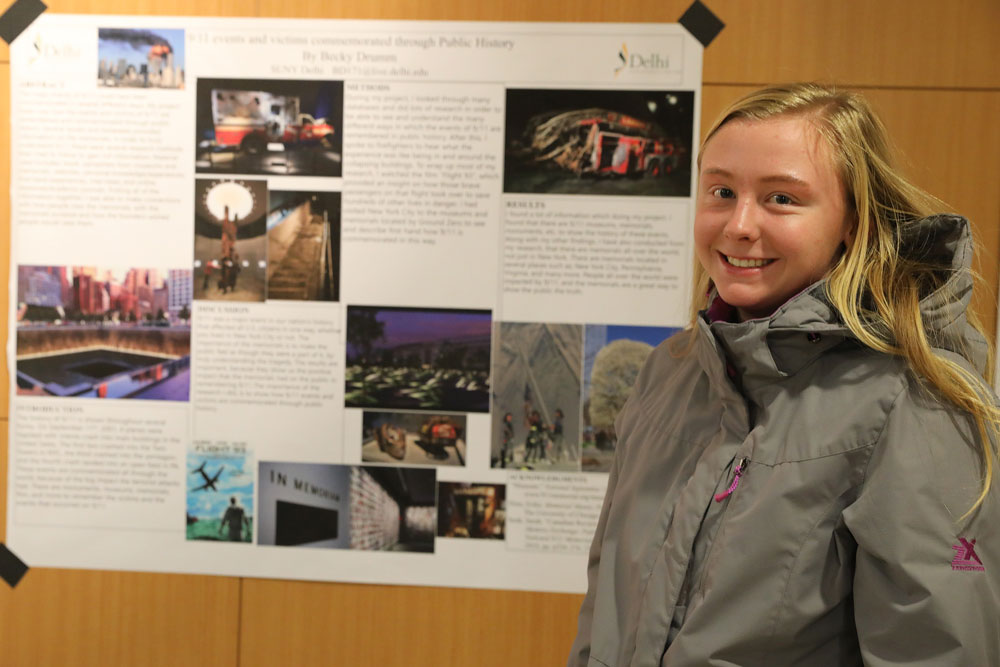 Becky Drumm is a freshman in SUNY Delhi's criminal justice program. In her research project, she examined how the victims and events of 9/11 are commemorated in public history.

"My father was a firefighter who worked in the twin towers on Ground Zero," Drumm said of her connection to 9/11. "I interviewed him to record his first-hand account of the events and what it was like to see it with his own eyes and to lose a group of friends he worked with. My mother, who was pregnant with me at the time, watched the towers collapse, knowing her husband was out there."

"The effects of 9/11 are still ongoing," Drumm said. "People deal with long-lasting consequences. Some may not have lost their lives but are permanently sick from smoke inhalation or fighting cancer."

Drumm, who was born two months after the terrorist attacks, said that she found many museums, memorials, books, and films dedicated to 9/11 and its victims. Her father still holds on to leftover pieces of glass and cement from the wreckage and visits memorial events. Drumm said that the many ways 9/11 is commemorated through memorials, events, and works of art prove the strength of the nation in the face of disaster.

"The terrorists tried to bring us down, but New York City came together and became stronger, like one big family."

Professor Hamblin said he was impressed with the level of research the students performed as well as their ability to develop arguments and draw conclusions.

"Most of the students in this honors class are freshmen and represent majors that involve very rigorous coursework," he said. "To be able to balance an intense research topic with other academic pressures and produce quality work is very impressive for a student straight out of high school."

The projects were displayed during SUNY Delhi's Student Achievement Day which featured both oral presentations and visual displays from multiple academic areas, including architecture, mechatronics, and veterinary science.

Learn more about the Honors Program at SUNY Delhi