Parent, Family & Friends Newsletter
Swipe it Forward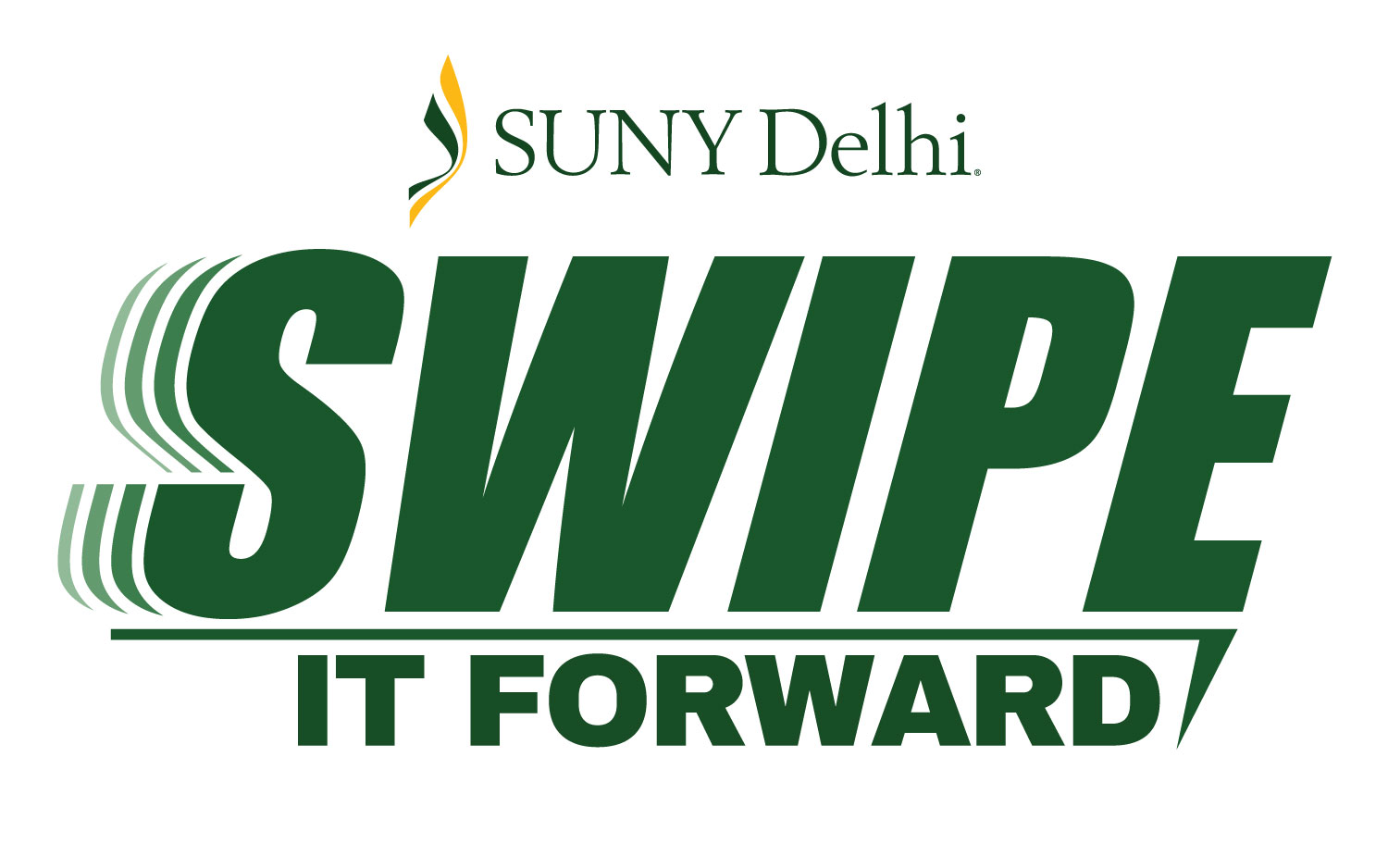 Our community actively addresses student hunger and food insecurity, which is a nationwide issue. Utilizing campus meal plans, Swipe It Forwad was designed to be a discreet way for students to help their peers by donating bonus meals for those in need.
Students use Bronco Connect (the campus engagement platform) to donate and request a meal through a digital form. The entire process is anonymous and meals can be used at the all-you-care-to eat dining facility, MacDonald Dining Center.
SUNY Delhi pioneered this SUNY-wide intiative to fight student hunger, and our community is proud to be engaged with each other, and to live the value of community service and giving.
---

Scholarships for the 2020-21 Academic Year

Over $350,000 in scholarships is available for SUNY Delhi students studying a variety of majors, demonstrating financial need, showing academic achievement and more. Don't miss out on the opportunity for your student to benefit from over 500 scholarships.
Students can now access the online application. Questions can be answered at 607-746-4530 or scholarships@delhi.edu
---

Be on the lookout for Session B Courses
Spring 2020 Session B courses begin on Monday, March 16. Full-time students may enroll for additional credits, at no additional cost. Seats are limited and students are enrolled on a first-come, first served basis.
Students should search for available classes online and then pick up enrollment forms at their Academic School Office.
---

May 2020 Graduates
It will be here before you know it! There are a few things students must complete before they can official graduate from SUNY Delhi:
Run and print a Degree Evaluation from Degree Works to confirm that all degree requirements will be met by the end of the semester.
Download the Petition to Graduate form (pdf) and complete the form as directed. (Deadline for the students name to be in the Commencement Brochure is Monday, March 16)
Meet with their Academic Advisor to review your Degree Evaluation and obtain your advisor's signature on the Petition to Graduate.
If the Degree Evaluation indicates that all degree requirements have been met, bring the Degree Evaluation and the completed Petition to Graduate form to the Registrar's Office, 124 Bush Hall, by the stated deadline.
We urge students to make an appointment with their advisor to begin this process sooner, rather than later. Congratulations to parents, families and friends of graduating students!

---
Designed for all students
---

The Division of Student Life
From activities to athletics, health services to volunteerism, from dining to living on campus, from personal safety to diversity, the departments of the Student Life Division share one mission:
We are dedicated to engage, empower, support, and provide opportunities for students to grow, succeed, give back and reach their fullest potential.
Find out more by visiting all of the Campus Life web pages.
---
Academic Calendar Dates

March

Sunday, March 1: Residence halls reopen for all students at 12 noon
Monday, March 2: Classes Resume
Monday, March 16: Petition to Graduate Submission Deadline
Monday, March 16: Session B courses begin

April

Saturday, April 4: Residence halls close at 10am
Sunday, April 12: Residence halls reopen for all students at 12noon
Monday, April 13: Classes Resume
May

Thursday, May 7: Baccalaureate Reception
Thursday, May 14: Commencement Dinner
Monday, May 11 - Friday, May 15: Final Week of Classes
Saturday, May 16: Commencement Ceremony


---
Stay Connected