Parent, Family & Friends Newsletter
Spring Bronco Ready Orientation
Saturday, January 21 & Sunday, January 22, 2023
This two day program is designed for incoming new students to receive important information about campus services, meet with academic advisors, get scheduled for classes, and submit information for the SUNY Delhi Student ID. This is completed as part of your process to finalize your enrollment and become a member of the SUNY Delhi community.
Review the Bronco Ready Schedule and get ready to start your journey with us!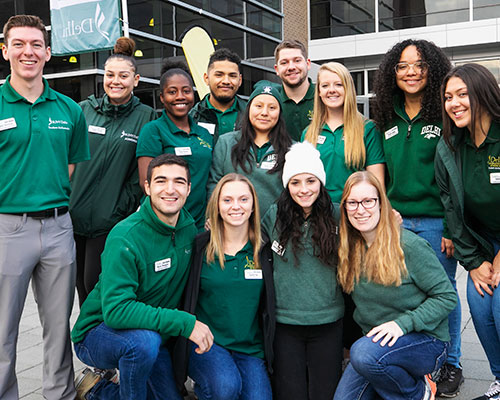 ---
Bronco Bulletin Information
---

A Reminder from Health Services
Students are required to submit results from a COVID-19 test within 72 hours of returning to campus after break. Please upload a photo, including your student ID and results of the COVID-19 test to your patient portal.
Any "positive results" you will need to contact Health Services at 607-746 4690. All residential students will be required to show proof of a negative COVID-19 result upon check-in.
Questions? Please connect with Tanjia Hynes, Health Service Diredctor at 607-746-4690, hynesta@delhi.edu.
---
Upcoming Academic Calendar Items
See the Full Academic Calendar for upcoming events and deadlines!


---
Weather Related Announcements
When severe weather is anticipated, the college closely monitors the conditions. The campus community should always assume classes will be held as originally scheduled unless otherwise notified by the college.
In the event of severe weather which could cause classes to be delayed, postponed, or canceled, information will be communicated by:
The RAVE alert system to send text, voice, and email messages for those who have signed up. Please be sure that you are signed up for the RAVE alert system in order to receive these important messages.

The SUNY Delhi website banner (at the top of the page)

Social Media notification on Facebook and Instagram for followers of our accounts.
Only the Governor of New York can close a State agency, including our college. Please refer to the Employee Handbook for more information.
Always use your best discretion when traveling in difficult weather conditions and contact your supervisor with any questions.
For more information about winter weather in our area, visit the National Weather Service forecast for Delhi.

---
Academic Dismissals & Academic Probation
Students will receive notification via their Delhi email address on/about Wednesday, December 21, 2022, if they have been academically dismissed or will be on academic probation for the Spring 2023 semester.
Letters and information, including how to appeal, can be found here for academic dismissals and academic probation.
Students who do not appeal their dismissal, and students whose appeal was denied, need to follow the directions from Residence Life (pdf) about removing their belongings. To schedule a pick up time, please use this link.

---

Apply for 2023-2024 Financial Aid
It's not too early to apply for financial aid for the 2023-2024 academic year. As of October 1, 2022, both the Free Application for Federal Student Aid (FAFSA) and the NYS Student Aid Payment Application (also known as the TAP application), became available. Apply today! Student Financial Services, 607-746-4570, sfs@delhi.edu
---
Designed for All Students
---
The Resnick Academic Achievement Center
The Resnick Academic Achievement Center is committed to providing a welcoming environment that supports students in their goal of achieving academic success. The Center is committed to serving all students with the goal of them becoming independent learners. Through a coordination of multiple departments, the Resnick Academic Achievement Center offers a variety of resources, programs, and services to prepare students for the rigors of the college experience and beyond. Located on the Second Floor of Bush Hall.
Services Provided in the Center