SUNY Delhi Student to Represent USA in International Young Chef Competition
SUNY Delhi Student to Represent USA in International Young Chef Competition
Carly Yezzo qualified for the prestigious competition based on her performance in the national competition in Pittsburgh, PA.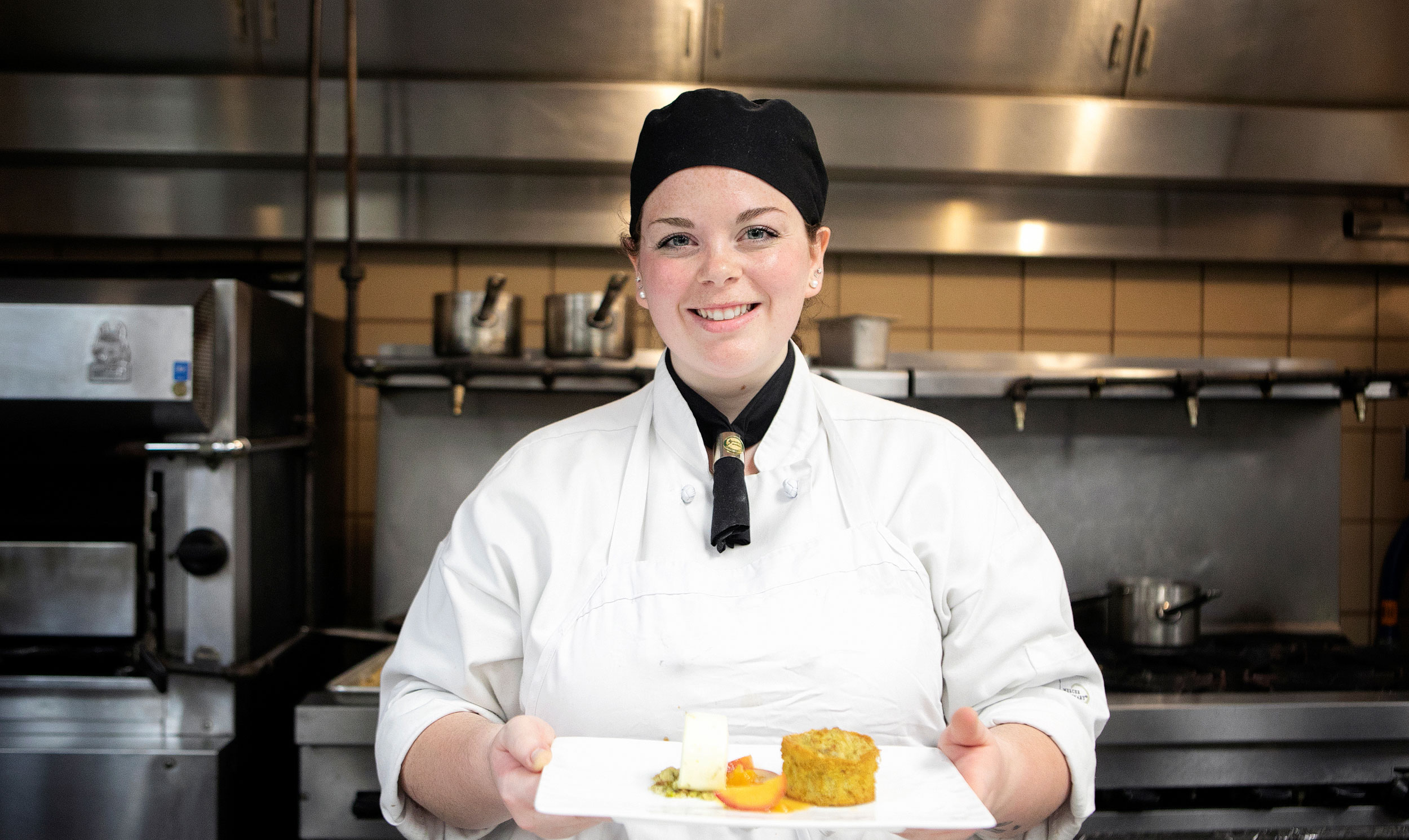 Delhi, NY (06/04/2019) — Carly Yezzo, a culinary arts management major at SUNY Delhi, has been chosen to represent the USA in the international Chaîne Des Rôtisseurs Young Chef Competition in 2020. Yezzo qualified for the prestigious competition based on her performance in the national competition this weekend in Pittsburgh, Pennsylvania. The location for the international competition has not yet been announced.
Founded in Paris, France, in 1248, the Chaîne des Rôtisseurs is the world's oldest international gastronomic society. The young chef competition encourages and promotes the culinary expertise of young chefs under the age of 27. At age 21, Yezzo was among the youngest competitors in the nationals this year.
"It's incredible to know that I will represent the USA in this esteemed competition," Carly Yezzo said. "While I've competed in and won other culinary competitions before, this is definitely my proudest achievement so far."
In the national young chef competition this weekend, competitors representing ten different regions of the country were given mystery baskets and asked to create three-course menus from the ingredients in the basket. Only one ingredient, Lake Erie walleye perch, was announced ahead of time. The mystery basket included pork belly, duck, fiddlehead ferns, ramps, gooseberries, and wild mushrooms, among others. Competitors were given 30 minutes to write out a menu, and three and a half hours to prepare the dishes. The dishes were judged based on flavor, presentation, and originality, with further points given for technique, sanitation, and professionalism in the kitchen.
For her appetizer, Carly Yezzo created walleye perch mousseline, gooseberry quinoa, and tournée-cut carrots with a white wine fish reduction sauce. Her entrée was pan-seared duck breast with wild mushroom farfalle duck ragu and fiddlehead ferns. For dessert, Yezzo prepared a pistachio cake with lime semifreddo, maple caramel sauce, and fresh fruit.
"Watching Carly compete with such calm and confidence was unbelievable," said Chef Sean Pehrsson, Yezzo's instructor and mentor at SUNY Delhi who, along with Chef Victor Sommo, had been practicing with Yezzo using mystery ingredients for weeks leading up to the competition. "She handled herself with the utmost professionalism. She is a rare talent with amazing skill combined with creativity and a great attitude. I'm so proud of her."
Pehrsson said the judges were also full of praise for Yezzo, complimenting her on the way she filleted the fish and fabricated the duck as well as her cleanliness and demeanor. "They couldn't say enough good things about her."
Yezzo's dessert won the Best Dessert trophy, the only award presented for an individual dish in the competition.
This fall, Carly Yezzo will begin her senior year at SUNY Delhi where she will continue practicing with Pehrsson and Sommo for the international competition against young chefs from other countries in 2020.
Yezzo said that representing the United States internationally is an honor. Last year, she was on a team of SUNY Delhi students who represented the USA in the international Copa Culinaria competition in Santiago, Chile, and won first place.
"The standards and expectations are high, and I will do my absolute best to represent my country well," Yezzo said. "I have the wholehearted support of my professors and SUNY Delhi behind me. I want to make them and my country proud."
In the last decade, Delhi students have won more than 500 individual and team medals, including multiple American Culinary Federation (ACF) state, regional, and national titles. Most recently, SUNY Delhi student Julio Chavez won the title of ACF National Student Chef of the Year 2018.
SUNY Delhi's culinary arts program has long been recognized as one of the best in the country. Offering students a firm foundation from which to start their careers as culinary professionals, the program prides itself on committed faculty, diverse teaching styles, and numerous electives in advanced and unique techniques. SUNY Delhi is currently building a state-of-the-art pub, restaurant, and event space named Bluestone where students will gain valuable real-life experience in all facets of hotel and restaurant management and refine their culinary skills.
Watch a video featuring Carly & her experience here at SUNY Delhi:.