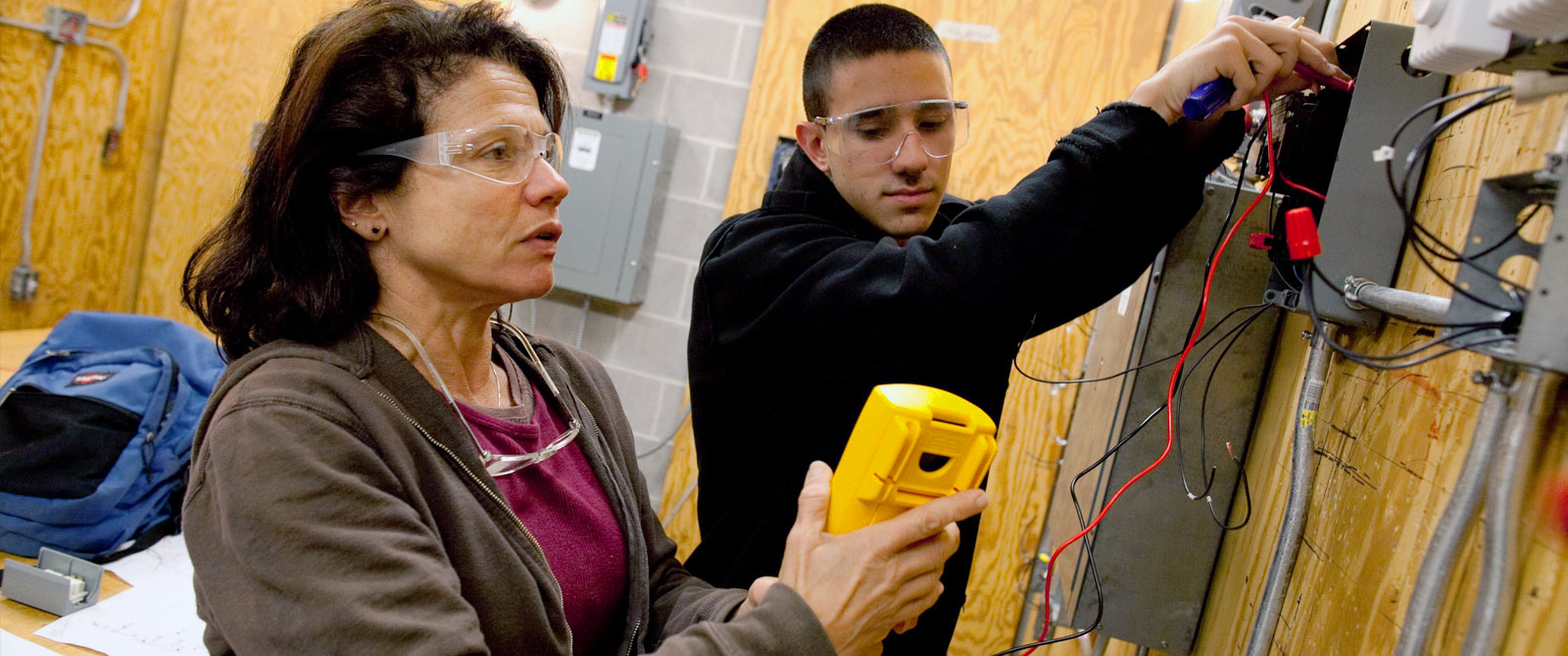 Electrical Construction and Instrumentation
Electrical Construction and Instrumentation (AAS) (AOS)
Prepare for a variety of careers installing and maintaining electrical systems in residential, commercial or industrial settings with our Electrical Construction and Instrumentation program.

You can choose to earn your Associate in Occupational Studies (AOS) degree and enter the workforce directly, or earn an Associate in Applied Science (AAS) degree and continue on to a related bachelor's degree program.
Program Highlights
Choose the AOS program and get right to work or choose the AAS program to transfer to a bachelor's program.
Elective opportunities in Green Building and Low Voltage/Alarms
Our Electrical Technologies Center offers hands-on experience with residential, commercial, and industrial projects.
Master the National Electrical Code.
Opportunity to take an OSHA 30 Construction Safety course
Outcomes
Electrical line technician
Facilities maintenance technician
Electrical mechanic
Installer for generator installation company
Crane/Elevator operator
Electrician/HVAC technician
Controls technician for oil and gas exploration
Railroad signal technician
Instrumentation technician
Service representative
Project manager
Chief engineer
Graduates find employment with major firms like Chobani, Breakstone, General Electric, National Grid, New York State Power Authority, A.Treffeisen & Son, Quality Inns and Suites, Amtrak, MetroNorth Railroad and many more. Average starting salaries range from $37,000 to $75,000.
Bachelor's Degree Opportunities at SUNY Delhi
Recommended Admissions Requirements
AAS:

75 High School GPA with a Regents Diploma or 2.0 Cumulative Transfer GPA
Completed Coursework in Algebra and Geometry; Algebra 2/Trigonometry Recommended
AOS:
73 High School GPA with a Regents Diploma or 2.0 Cumulative Transfer GPA
Completed Coursework in Algebra; Geometry and Algebra 2/Trigonometry Recommended
Curriculum
SUNY Curriculum Codes:
AAS Electrical Construction and Instrumentation: 1642
AOS

Electrical Construction and Instrumentation

: 1151