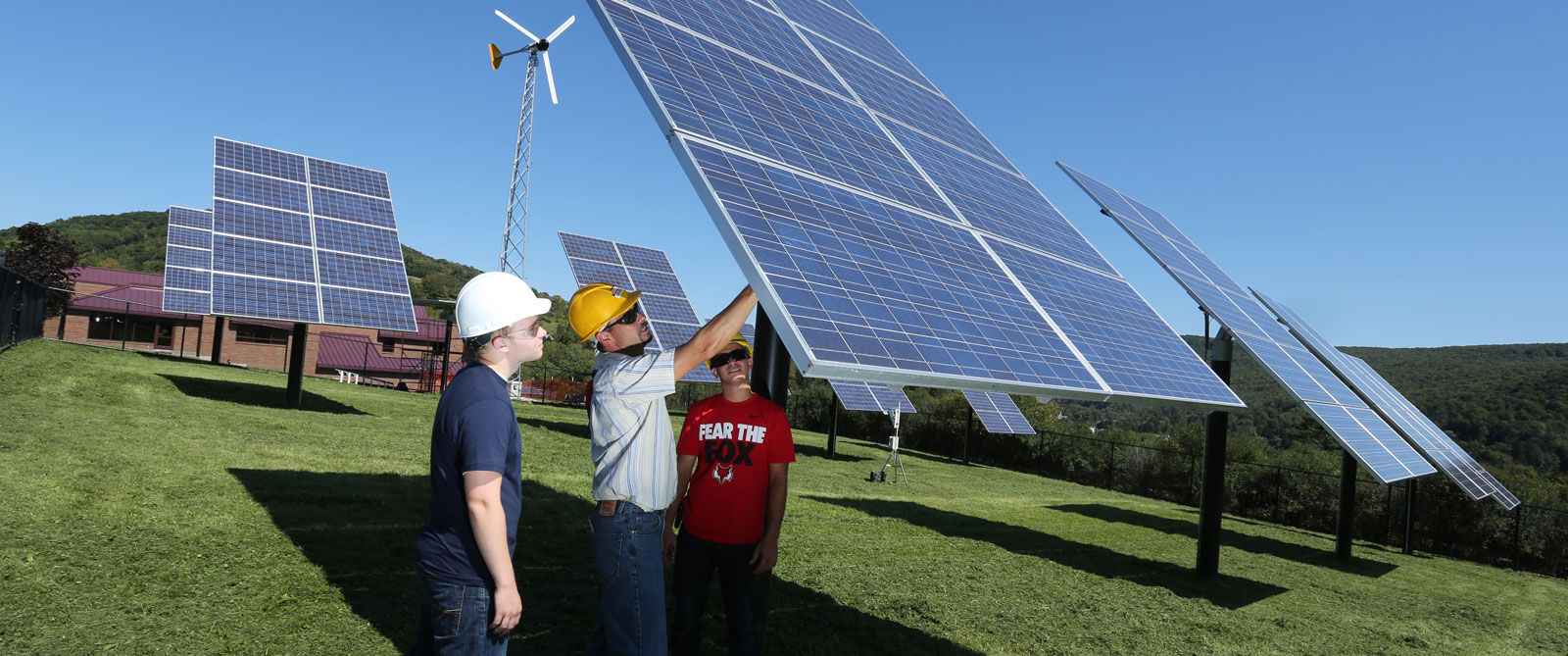 Integrated Energy Systems
Integrated Energy Systems (AAS, AOS)
With an Integrated Energy Systems degree, you'll be prepared to launch a career in the rapidly expanding fields of alternative and renewable energy, or to go to work for an electrical utility. Growing demand for renewable energy and regulatory reforms means an increasing need for electrical technicians with expertise in utility systems and alternative energy systems.

The program trains highly skilled electrical technicians with expertise on both sides of the consumer electric meter through courses covering metering, service, line construction, and maintenance as well as residential energy technologies, including solar arrays, wind turbines, generators, and energy storage systems.
Program Highlights
Recognized by the Interstate Renewable Energy Council
Taught according to Institute for Sustainable Power Quality Standards
Experienced instructors with years in the field, including veteran New York State Electric & Gas linemen
Facilities
The Electrical Technologies Center features specially designed labs that offer you the opportunity to work on residential, commercial and industrial projects. SUNY Delhi houses a 22.5 kW Solar Array, a system of 100 solar electric modules that provide a permanent site for demonstrating renewable energy technology to students preparing for careers in electrical and building construction, while offsetting a portion of the college's energy use. Using an online dashboard, students and the community can see how much energy the system generates in real time, and how many tons of CO2 we are saving from entering the atmosphere. You'll also train on our wind turbine tower, performing real-world jobs in a safe, controlled environment.
Career Opportunities
Utility Lineman
Electrical Services Planner
Solar Panel Installer
Wind Energy Technician
Generator Installer
Recommended Admissions Requirements
AAS:
75 High School GPA with a Regents Diploma or 2.0 Cumulative Transfer GPA
Completed Coursework in Algebra and Geometry; Algebra 2/Trigonometry Recommended
AOS:
75 High School GPA with a Regents Diploma or 2.0 Cumulative Transfer GPA
Completed Coursework in Algebra and Geometry; Algebra 2/Trigonometry Recommended
Curriculum
SUNY Curriculum Code: 2310