SUNY Delhi Head Golf Pro Dave Arehart Receives PGA Award
SUNY Delhi Head Golf Pro Dave Arehart Receives PGA Award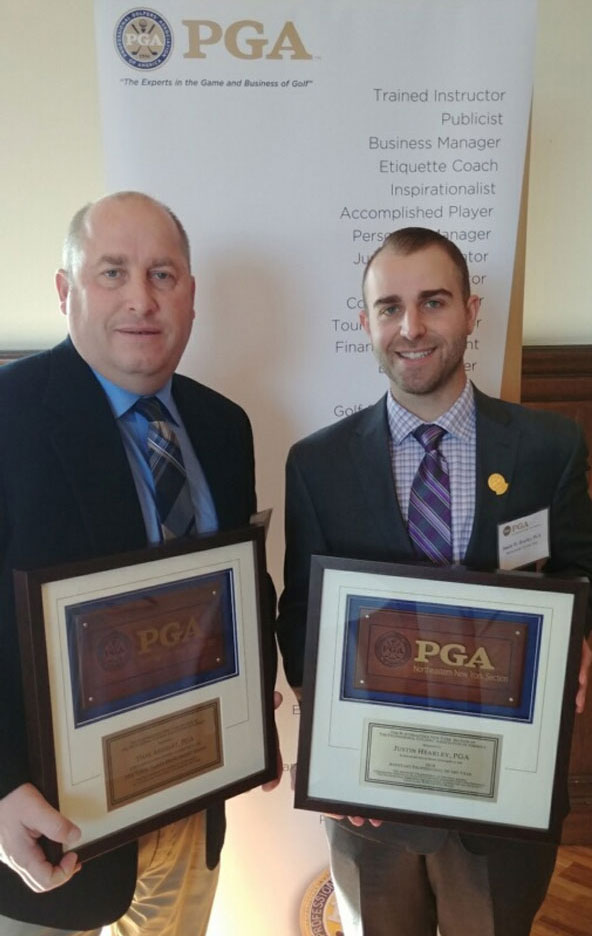 SUNY Delhi Head Golf Professional Dave Arehart (left) received the 2018 Youth Player Development Award from NENY PGA. Justin Hearley (right), a 2012 PGM graduate of SUNY Delhi and a former student of Arehart's, was also recognized by NENY PGA. Hearley received the Assistant Golf Professional of the Year award. Hearley works at Normanside Country Club in Delmar, NY.
Dave Arehart, Head Golf Professional and Instructor for Business and Professional Golf Management (PGM) at SUNY Delhi, has earned the distinction of being named the 2018 winner of the Youth Player Development Award by the Northeastern New York Section of the Professional Golfers' Association (NENY PGA).

The award was presented to Arehart at a ceremony at the Saratoga National Golf Club in Saratoga Springs, NY.

"We are thrilled to have Dave Arehart as a member and resource to the Northeastern New York PGA Section and a credit to our organization," said Doug Evans, Assistant Executive Director and Tournament Director at NENY PGA.

"It is an honor to receive the prestigious Northeastern New York Youth Player Development Award and I was truly grateful to be considered," Dave Arehart said of the recognition. "The greatest reward, however, has been the continued success and achievements of our former and current junior golfers."

Upon his arrival at SUNY Delhi in 1998, Arehart instituted the first junior program at The College Golf Course to serve juniors ranging in age from five to 16. Encouraging participation regardless of skill level, economic background, or physical challenges, the program provides the foundation to become a lifetime golfer by offering skills development and real on-course experience to juniors.

Additionally, Arehart has initiated a number of other events and activities on campus designed to engage junior golfers. He also serves as the coach of the SUNY Delhi men's and women's golf teams that have helped produce more than 12 PGA Professionals and Apprentices.

"Dave Arehart is a consummate professional with a deep personal commitment to helping young men and women to learn and appreciate the lifetime benefits golf offers," said Joel Smith, Vice President of External Affairs at SUNY Delhi.

SUNY Delhi currently offers three degrees to train graduates for a variety of careers in the golf industry. Delhi's Business and Professional Golf Management degree is the only bachelor's PGM program in the Northeast. Preparing graduates for all facets of the golf industry including teaching, operations, and business, the program boasts one of the premier 18-hole, Audubon-certified college golf courses in the country, as well as 34,000 square foot indoor practice facilities, including a swing analysis lab and a state-of-the-art golf simulator. SUNY Delhi also offers associate's and bachelor's level degrees in Golf and Sports Turf Management.