Business Administration
Two-Year Associate in Applied Science (AAS) Degree or Two-Year Associate in Science (AS) Degree
Get your start in the business world with a two-year degree from SUNY Delhi!
Build a strong foundation for a successful career by learning the fundamentals of marketing, sales, accounting, and more in our Business Administration programs. You will graduate prepared to transfer to any business-related bachelor's degree program, or enter directly into an entry-level position in an organization.
The AAS degree allows you more flexibility to choose from a broader range of electives based on your personal interests.
The AS degree delves deeper into business, management, and technology concepts for a more focused study in these areas.
If you are interested in a career in the business world, this program is for you! You will develop your skills in salesmanship, record keeping, advertising, production, logistics, business technology, human resources, management, and retailing.
The Delhi Difference
Our business coursework blends business and technology, making you a valuable asset to any modern workplace.
Learn from faculty with years of real-world experiences in their areas of expertise in accounting, economics, cybersecurity, marketing, communications, and more.
Choose a specialty area to focus on, or spread your studies out over several aspects of the industry.
Internships and independent study projects allow you to gain valuable experience in your chosen area.
Small class sizes help you build strong connections with your peers, professors, and our alumni.
Enhance classroom learning with field trips, networking events, and volunteer opportunities.
Enjoy networking opportunities with our successful alumni, which can lead to internships and job offers.
Transfer seamlessly into any of our numerous related bachelor's degrees at SUNY Delhi.
Take advantage of the excellent job outlook for administrative managers that is expected to have a faster-than-average job growth until 2029, with projected median annual wages of above $56,000, according to

the U.S. Bureau of Labor Statistics.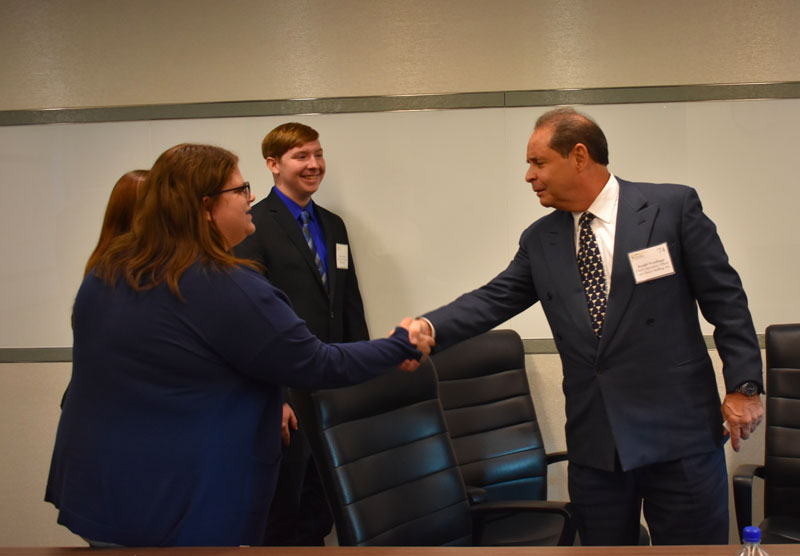 Networking in NYC
SUNY Delhi makes sure students are armed with everything they need when they graduate. The curriculum is frequently re-evaluated based on what is happening in the industry. As a member of the department's advisory council, I help inform the faculty about new and cutting-edge developments so that they can be incorporated into teaching. The faculty are also directly involved in the business world outside of teaching, and bring those real-life experiences into the classroom. The professors encourage students to do internships, which proved to be a really beneficial experience for me personally. It's such a great environment – I still get re-energized every time I visit the campus."

Tina Soden '95, Contracts Professional, Naval Nuclear Laboratory, Schenectady, NY
What Can You Do With This Degree?
Administrative or executive assistant

Customer service agent

Production group team leader

Accounts receivable/payable supervisor

Office manager
Alumni Highlights
Sean Gilbane

'

13

–

Account Specialist, Mid-Hudson Valley Federal Credit Union, Kingston, NY

Mark Maroney

'

97

–

Co-Head of Global Spread Products, RBC Capital Markets Investment Banking, Toronto, Canada

Tina Mole '93 – Chairperson, Delaware County Board of Supervisors, Delhi, NY

Peter Gioffe '94 - CEO & President, Delaware National Bank of Delhi, Delhi, NY

Walter Geer III - Executive Creative Director, VMLY&R, New York, NY

John Hobika '88 – Senior VP/Regional Sales Director, Advisors Insurance Brokers, Utica, NY.