Students Return to SUNY Delhi
Students Return to SUNY Delhi
On the weekend of August 24 to 26, SUNY Delhi welcomes students back on campus for the 2018-2019 academic year. A total of 3,236 new and returning students are expected to arrive and move into residence halls throughout the weekend. Freshmen get a head start by arriving first on Friday morning with orientation activities planned over the weekend to help them become acclimated and make friends. Returning students will move in on Sunday.
"Our incoming freshman class consists of approximately 1,250 students selected from over 7,000 applicants," says Robert Piurowski, Director of Admissions and Enrollment Management at SUNY Delhi, who is also a 2002 graduate with a bachelor's degree in Hospitality Management. "We are thrilled to welcome them to our campus, knowing this is such an exciting time in their lives. We are prepared to do everything we can to make them feel at home."
The freshman class represents 56 of the 62 counties within New York State as well as 13 additional states and the country of Japan.
"Each new student brings their unique spirit and experiences, adding to the wonderfully diverse student body at SUNY Delhi," Piurowski adds.
During welcome weekend, freshman students will enjoy an orientation program designed to provide all the tools and information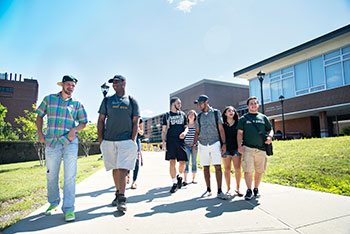 they'll need for a successful fall semester. Various campus resources will be introduced and bus trips to Walmart to pick up supplies will be offered. The program also includes entertainment and icebreakers to help new students feel comfortable and get to know each other. Games, live music, a comedy show, and a picnic are all part of the weekend activities.
The Fall 2018 semester marks the launch of several new bachelor's degrees at SUNY Delhi, including Facilities Management, Criminal Justice, Human Resource Management, Healthcare Management, and Veterinary Technology. While some new programs leverage and expand on the strength of existing associate's degrees, others introduce new, in-demand fields of study with excellent projected job outcomes.
SUNY Delhi is also proud to introduce a number of new student services this fall. The newly opened MOSAIC Multicultural Center is a welcoming and inclusive space for students to feel supported as they explore their sense of self and the world in which they live. Several food-based initiatives such as an on-campus food bank, a boxed lunch program for traveling students, and a healthy breakfast smoothie bar will be available. Living Learning Communities have expanded this year, offering specialized student experiences where students in the same academic program can benefit from peer tutoring, a quiet study environment, and the support of a close-knit community.
In the Athletic Department, the big news came last spring as Delhi Broncos acquired provisional NCAA Division III membership. Ribbon-cutting ceremonies will take place on Sunday, September 2, at the men's soccer game.
Says Piurowski, "With everything SUNY Delhi has to offer. from award-winning programs and applied learning opportunities to our excellent services and enriching student life experiences, it is truly a pleasure to embrace new students into our family at SUNY Delhi. We also want to extend special thanks to Village of Delhi residents for graciously welcoming our students into this close-knit community every year."
Classes for SUNY Delhi students begin Monday, August 27.