Announcements
2024 Cost-of-Living Adjustments Announced
The Internal Revenue Service announced its annual update to dollar limitations for retirement plans for the 2024 tax year. You can find maximum 2024 Cost-of-Living Adjustments to use as a guide. Do not rely solely on this information when making financial decisions. It is recommended that you visit the IRS website and/or confer with your financial planner prior to making financial decisions.
SUNY Voluntary Savings Plan - 2024 Universal Availability Notice
2023 participation guidelines for 403(b) Voluntary Savings Plan and the NYS Deferred Compensation Plan can be reviewed at SUNY Voluntary Savings Plan 2023 Universal Availability notice (pdf).
SUNY Employees - SUNY Perks at Work - Online Academy
SUNY Perks has a "Community Online Academy," which hosts a plethora of learning opportunities every Thursday. The offerings change weekly, but include 45-minute courses related to leadership, mindfulness, resiliency, boxing, fitness, nutrition, gratitude, etc. And they have a menu of offerings geared toward kids (30 minutes long), including math, Chinese, Becoming a YouTuber, coding, basketball workout, hip hop dance, etc. In addition, SUNY has negotiated savings with a variety of partners on computers, toys, electronics, and more. Visit Perks at Work to learn more. If you have questions, please contact humanresources@delhi.edu.
NYS and CSEA Partnership for Education and Training
The NYS & CSEA Partnership for Education and Training is pleased offer Skills for Success online courses and webinars. Live, instructor-led courses and webinars provide CSEA-represented employees with the knowledge, skills, and tools needed to meet their personal and professional development goals. Educational Advisement Services are available to CSEA represented employees by calling 518-486-7814 or 800-253-4332. For further information, visit NYS and CSEA Partnership Skills for Success, call 800-253-4332, or email advisors@nyscseapartnership.org.
The Empire Knowledgebank (EKB) for UUP Employees
The EKB Program can provide access to thousands of eLearning courses, eBooks and short course videos to enhance professional and career development, for certification preparation, and for continuing education in a variety of areas. Licenses will be issued to applicants on a first-come, first-served basis. Employees seeking permission to use the EKB eLearning Program during normal business hours for job or career-related courses must request prior supervisor approval. UUP employees interested in using the EKB must complete an application to use the EKB eLearning Program (pdf) and submit it to the NYS/UUP JLMC. For more information, please see EKB Program Guidelines (pdf), visit NYS/UUP JLMC on the web, OR contact a program representative directly at 518-486-4666, or by email at nysuuplmc@goer.ny.gov.
Empire Plan Remote Access to Health Care Services
The Empire Plan has introduced a new telehealth benefit for remote access to health care services. LiveHealth Online lets enrollees stay home and have a video visit with a board-certified doctor or licensed therapist on their smartphone, tablet or computer.
If enrollees are concerned about leaving their homes to receive medical care or their ability to access care, The Empire Plan will cover telehealth visits at no cost. Review New York State government employee benefits (pdf) for information and step-by-step instructions to register.
For additional assistance, call The Empire Plan at 1-877-7-NYSHIP (1-877-769-7447), option 2 for the Hospital Program. LiveHealth Online is being administered by the Empire Plan's Hospital Program, BlueCross BlueShield. Therefore, you must select option 2 to utilize LiveHealth Online.
A postcard regarding this new benefit will be mailed to enrollees soon.
NYS Department of Civil Service – Examination Schedules
Open-competitive examinations are open to an individual who meets the minimum qualifications specified on an examination announcement. View the tentative exam schedule, the scheduled exams and sign up for email alerts when new examination announcements are issued. Promotion and Transition examinations are open to all qualified state employees. View the tentative exam schedule, the scheduled exams and sign up for email alerts when new examination announcements are issued. Visit the NYS Department of Civil Service for additional information.
Highly Effective Office Assistant Certificate Program
About the Highly Effective Office Assistant Certificate Program
An online learning program to help employees enhance their administrative and clerical office skills
Employees must complete 18 required courses while achieving a passing grade of 70% or higher for each course in order to earn a certificate.
Supervisory approval is not required for courses taken at home.
Register today and begin taking courses anytime you wish during this six-month program.


For Technical Support and Questions
Tuition Benefits
UUP: United University Professions (UUP) employees may enroll in one course tuition-free per term on a space available basis. If you are a UUP employee interested in taking a course at SUNY Delhi please download and complete the UUP Tuition Waiver (pdf).
CSEA: Offers authorized repayment of tuition to employees who successfully complete coursework at accredited schools. NYS & CSEA Partnership for Education and Training Tuition Benefits Program
SUNY: Available to state employees, the SUNY tuition support program provides reimbursement for part of an employee's tuition cost. For UUP and CSEA this benefit it used when taking a second class during a semester, utilizing the union tuition benefit for the first class. The percentage of tuition that can be waived is determined by the applicant's percentage of full-time employment and the available funding. The applicant must be enrolled in a participating school (all SUNY schools are participating). SUNY Tuition Waiver Program Instructions and Application (pdf)
Fees: Under the SUNY and UUP tuition benefit program, all other fees and costs other than tuition are the responsibility of the employee.
SUNY Delhi Fee Waiver: all campus employees including CADI, College Foundation and Child Care Center (DC-4) enrolled in courses at SUNY Delhi may request a waiver of the college's mandatory Athletic Fee, Health Services Fee, Transportation Fee and Student Activity Fee, in accordance with Delhi's broad-based fee policy. Employee Mandatory Fee Waiver Request
NYSHIP Health Insurance Online Services
NYSHIP Online has been designed and structured to provide you with more targeted information about your NYSHIP benefits. Guidelines for Web Navigation of NYSHIP Online (pdf). To access NYSHIP Online, visit the New York State Department of Civil Service website. First, click on the Employees tab, then State Government Employees, select New York State Health Insurance Program and click Continue.
SUNY Discounts
Discounts are also available to all SUNY employees by visiting SUNY Discount Program, SUNY PerksCard/PerksConnect, Plum Benefits, My Better Benefits.
NYS Payroll Online Services Available:
Leaves of Absence & FMLA Information for Employees
In an effort to recognize the need of employees who require time away from work for personal medical, family medical, or military family reasons, employees must contact the benefits manager in the Office of Human Resources. Types of leave under the Family Medical Leave Act (FMLA) are to care for your own serious illness (pdf), a family member's serious health condition (pdf), a military family member's injury/illness (pdf) or qualifying military exigencies (pdf). Please review NEW Employee Rights and Responsibilities under FMLA (pdf) and note that supporting documentation may be required. For more information, contact the Human Resources Office, 607-746-4495.
Time Off for Breast Cancer Screenings
Employees are allowed to take up to four hours of paid leave annually for physical exams and mammograms for the detection of breast cancer and prostate cancer without charge to leave credits. Absence beyond the four-hour cap must be charged to leave credits. Employees are entitled to a leave of absence for breast cancer screenings scheduled during the employees' regular work hours. Employees who undergo screenings outside their regular work schedule do so on their own time. For example, employees are not granted compensatory time off for breast or prostate cancer screenings that occur on a pass day or a holiday. Employees must indicate Breast Cancer Screening or Prostate Cancer Screening on their time sheet when using this leave, and attach appropriate medical documentation to support the absence. Visit the U.S. Food & Drug Administration website for information about mammography facilities.
Injured on the job? Call the Accident Reporting System (ARS)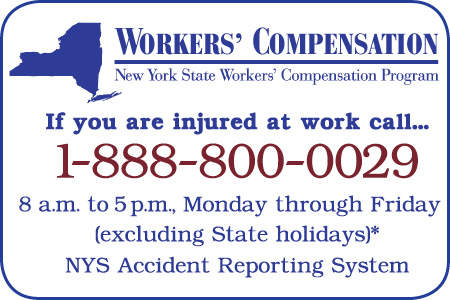 Each injured employee & student worker injury must:
call the ARS 1-888-800-0029, you will need to know:

our Workers' Compensation carrier is the NYS Insurance Fund

Glendale Tech Park Building 16, 2001 East Perimeter Road, East Endicott, NY 13760-7390 Phone 888-875-5790 fax 607-741-3985
our participating prescription service is CVS Caremark 1-866-493-1640

complete the Employee Accident & Investigation Report
provide report to your supervisor for their signature
send completed report to Human Resources, Bush Hall
Please see revised versions of the accident & injury reporting forms below.